Initially I thought I might include this in the WWYLTS in the Next Course thread, but since it's not about actually playing the bass I decided to stick it in the Lounge.
I would love it if in "My Lessons" a module/section could be marked as complete without having to do all of the workouts.
With Josh's encouragement, I've kept moving forward in the course even when the fast workouts are beyond my skill-comfort level. I leave them unchecked because I have every intention of revisiting them, but this leads to some confusion in tracking.
When the Lessons page is collapsed it looks like I'm still on Module 3 even though I'm midway through Module 7: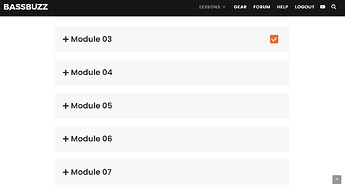 The "Continue/Resume Lessons" button likes to troll me by taking me back to my nemesis, Billie Jean.
(I presume this button works properly if you complete all the workouts.)
I do keep track on paper where I am in the course (thank you Josh for the charts), but it would save time if I could get to where I need to be in just two mouse clicks.
Reading that last sentence back sounds kind of primadonna-ish

, but this is a request not a demand. It can't hurt to ask, right?