As I loudly proclaimed elsewhere, the Yamaha TRBX-304 has been offered to me now.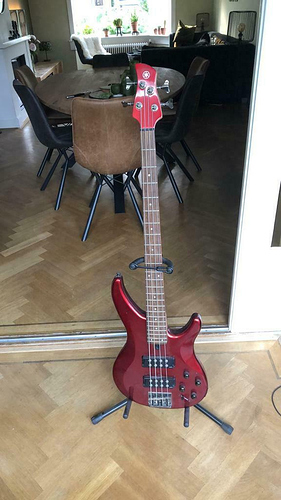 I placed a bid for €100, but this afternoon I got the message that the bass was already sold.
But this evening, the owner told me that the sale did not materialise, and if I still wanted it, it was mine. So yeah…
Now, this does pose a problem – my wall (and probably my spouse) will accommodate three basses. So one has to go.
If I'm realistic…
… it'll be the fretless Harley-Benton.
I know, this is the instrument that got me back into playing the bass again. But… what with me having really small hands, I have trouble enough reaching the E-string with my pinky.
But below (physically above) the E-string lives a B-string. There is no fornicating way my pinky is going to get at that B-string even at the 7th fret position – I have trouble getting there with my other three fretting fingers. The only use I could get out of that B-string is if I lay the bass flat on my lap and play it like a steel guitar, but with fingers. Sooooo…
Anyone wants to convince me otherwise?