Hi all, I hope this is the right spot as it is really about my learning experience.
As you may have seen in an earlier thread I have been playing with a "Dad band" over the last couple of months.
They play a selection of classic rock and modern songs- eg; Beatles to Muse
Typical weekly lists: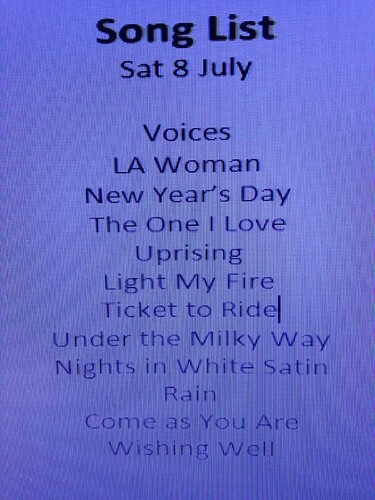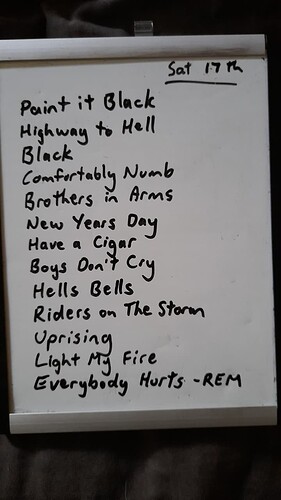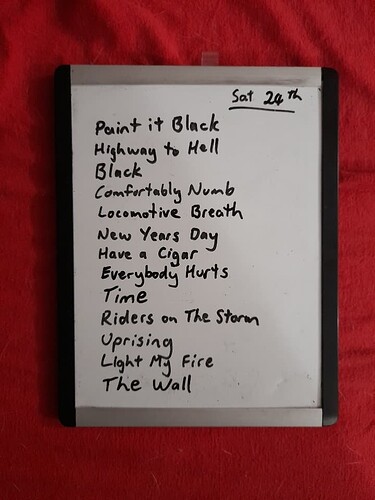 I have only really been seriously learning since January when I started B2B, prior to that I had been playing Youtube Roulette with free lessons for the previous 12 months.
The guys I am playing with have all been playing for a long time (decades) and have been in bands, had gigs etc and are of a pretty high standard I believe.
I turned up the first week knowing a few of the tunes prior but had prepared over the few days beforehand once I had the list and had a stab, I could hold my own with Time (PF), Riders on the Storm and a few others but knew I was out of my depth with others-mainly because I had not heard some before or I wasn't up to the more complicated string and position changing etc.
What I feel I was lucky with is that the guys knew how green I am and are prepared to put in the time to assist and develop me, they are also happy to have someone who actually wants to play bass as it frees up the keyboard player to play keys and another guitar (this guy has been gigging for 35 years).
One thing of value and this shows what a great group they are is that if I get lost they are happy to keep going and let me find my way back, also the keyboard player (who usually plays bass where needed) will give me a subtle hint by playing the bass part if he thinks I need it, not in a critical way but in a helpful way-very grateful for this.
What I am finding is that I am getting better, I value the fact that I am the "worst" player because as they say to get great you have to suck first, I am putting myself under a bit of pressure to learn the songs (at least adequately at first) and get better at them.
Lat Saturday one of the guys said that he was worried he was giving me too much, I told him I was at capacity but liked the pressure.
Eg we have done Light My Fire three times now; the individual bits aren't to difficult but getting them in the right place and changing tempo correctly is the challenge.
First time was a struggle, second better, third much improved even with the intro/finish part.
It is also very different playing with real people than Youtube

Another learning from last weekend is in regard to different singing style and how that affects you (and how to avoid this).
There is a neighbour to two of the guys who is a bit of a singer, he had joined in once before but didn't suit as he is a "cruise-ship crooner" rather than a rocker.
He joined in last week and sang Nights In White Satin (first time I played it with the group) and New Years Day.
His singing style is a bit syncopated starting and ending in strange places (Elvis in Las Vegas) and I found that it threw me off, especially Night in White Satin as I was doing the descending octave fills-I had to ignore him and concentrate on the drums and my chart.
Initially I was using my first bass, as Axiom defender- a starter bass but one I am most comfortable playing new things on.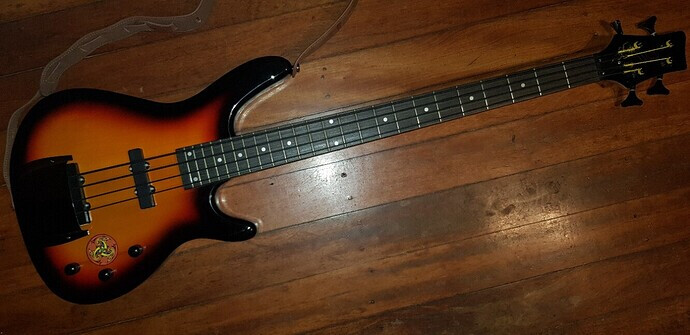 After a couple of weeks I ended up getting an Epiphone Viola in an surge of uncontrollable GAS and have been using it since (I plan on writing something about this one soon as I love it)
Top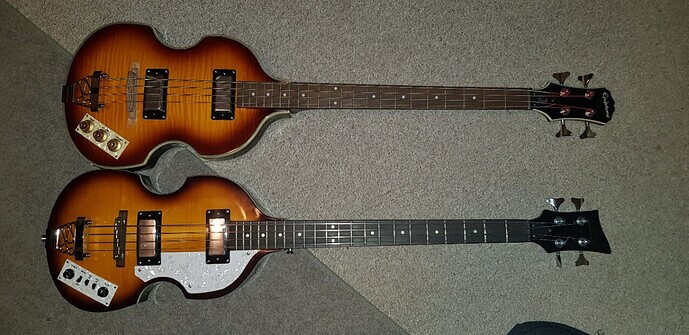 I am planning on using the Frankenfretess also for Black, Paint it black and Hey You plus anything else it will fit.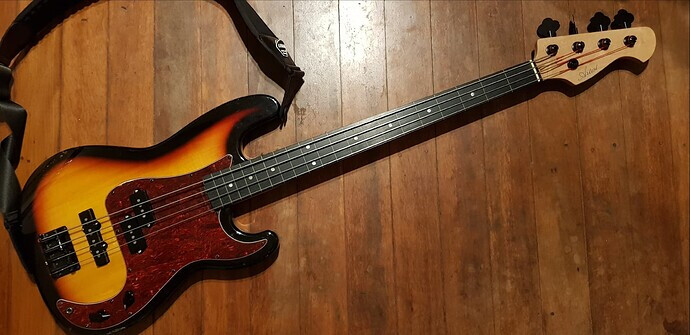 I am also loving the ZoomB1four, a great buy and fun with different settings-I found one that replicates the phaser effect on Have a Cigar for example.
I am sure I have forgotten a few points.