Need some help here.
The new 2-string slide bass has two single coil P pickups positioned apart (one at neck, one at bridge) and are wired through a DPDT switch for series / parallel modes (this is all on purpose).
Controls are Volume, Tone & the S/P switch - that's it, very simple (again, on purpose to replicate Mark Sandman's setup).
Here is my problem…
I am getting a ton of hum under certain conditions.
Here is all the info…
Tone rolled all the way down - zero noise/hum.
Tone brought up even a smidge, and all through the rest of the range - hum.
Tone much worse in series vs. parallel.
Touch strings, bridge, control plate - hum goes away
Touch NECK pickup pole(s) - hum gets EVEN LOUDER, either mode
Touch pole(s) of BRIDGE pickup - no hum, no issues, quiet (yes, pickup works)
In series mode, no continuity from NECK pickup to ground (see wiring diagram) which kinda makes sense as it has to go through the BRIDGE pickup before it hits ground.
In parallel mode, NECK pickup has continuity to ground which also makes sense.
Builder did not experience same thing on his end, I thought wiring issue during transit, all connections seem fine.
Below is the wiring diagram as built.
Below that is what I drew up as a much simpler solve, but, the builder suggests that they are essentially the same and it won't make a difference.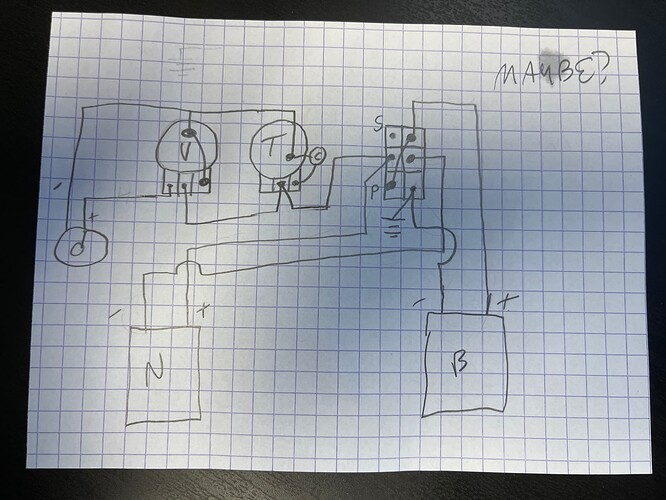 Question #1 - for two pickups in series, is this just how it is, noisy? - since the first one in the series is not immediately tied to ground? I assume this can't be as this is how a normal P bass is wired all the time.
Question #2 - If #1 is a no, then what fixes this?
Suggestions from builder
Shield control cavity - DONE - no difference.

As built it is really not possible to ground the NECK pickup cavity back to the main ground, no room in the channel. Even if it was possible, would it matter?

Take to a luthier and he will pay for repairs - I am hesitant to do this for two reasons. First, I/we should be able to sort it, and, secondly, around here that means weeks of wait unless I take it to guitar center or some other schlub.
My other ideas…
bad pickup?
bad pot?
bad capacitor?
bad switch?
UPDATE -
Swapped neck pickup with one I had in a bin, same issue.
Swapped leads on both original pickups so neck was wired where bridge was and bridge was wired where neck was to see if I could 'move' the problem, noise now in both pickups (series mode). is there when i touch poles on eithe pickup (only neck pickup in parallel), so results not as expected.
Removed switch from circuit, wired in series, general noise/ hum gone when tone rolled up BUT big hum when I touch pole pieces of the neck pickups still (weird).
Going to order and replace switch and see what happens and then try to sort out noise form touching pole pieces.