Considering I'm classically trained, you'd think I would have realized this a long time ago, but only learned it in the past year. Feel free to correct me if I'm wrong on this, but this is my new understanding. When I was in a certain key, I sometimes didn't know whether a note was a C-Sharp or a D-Flat.
Josh may explain this in a video, but I haven't gotten that far yet.
I saw a good music theory video on YouTube and it explained that you know this because each note letter in a key is only used once.
Take something like the key of D. It has the notes D/E/F-Sharp/G/A/B/C-Sharp.
So, why couldn't that F-Sharp be a G-Flat? Because there would then be a G-Flat and a G. Why can't that C-Sharp be a D-Flat? Because there would then be a D-Flat and a D.
But why does that matter? For bassists that don't use sheet music, it probably doesn't matter as much. But in sheet music, keys are represented with key signatures such as the D-Major key signature below.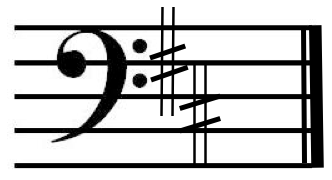 In a key signature, each of the 12 notes are labeled as a natural, sharp, or flat. So if you had something as a G-Flat and a G in a key, you couldn't really represent that in a key signature.
That bit wasn't in the video, but it makes logical sense to me, so I'm assuming it to be true.
Anyway, I was excited to figure this out.
Here are the major keys so you can see no letter repeats twice: