Good work @Reo,
Cheers Brian
Nicely done @Reo!


Good job @JDDaniel!


I have a metronome, but don't use it😞
Definitely staying on pace was an issue
I had a metronome and hated using it. I bought a Zoom b1 Four with built in drum machine and I now use it all the time. To change the tempo you just turn a physical dial. I practice the mechanics of a something very slowly and then add 5 bpm at a time until I'm up to full speed. Practicing against a drum track vs a metronome is night and day. Plus the built in effects are really pretty good for less than the price of a single Boss pedal.

One of the best buys in music for starting out. They should just come with basses

Drum machine is a souped up metronome.
I do see how on bass a drum beat helps with a better groove.
Coming from sax, we don't really play with a drum machine.
It's metronome then chord changes (I use the irealPro app) and maybe some simple drums.
True, but my wind up metronome just gave me flashbacks of being forced to learn music as a child. The mechical ticking sound merely reminded me of my own mortality (Ticking away the moments that make up a dull day, You fritter and waste the hours in an offhand way) and the dissapointment in not learning bass 40 years ago

A drum machine sounds like 'hey I'm playing with a band'. Everyone's mileage will vary.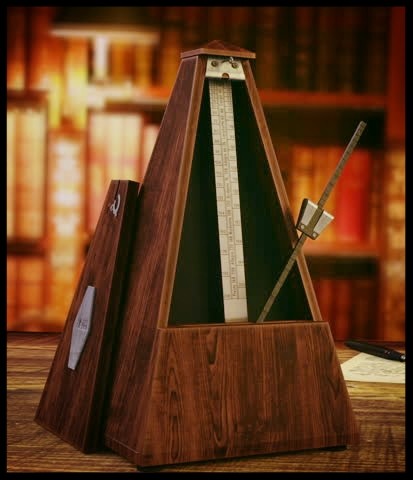 Drum machine is what a metronome should be for bass. So much better IMO

Great job on this. It's a trickier song that it appears to be and can get quite tiring too. A few notes not exactly on the beat, but very minor.
You might want to take some time and see if your hands are positioned how you want them. Everyone is different, but I felt like you fretting hand needed to rotate around a bit more if you can. Just experiment in front of a mirror, but don't do anything that feels like it might be painful. Similarly, on your plucking hand, your finger looks very straight to me and it should usually follow the natural curve of your hands. You should do what is comfortable to you, but I want to make sure you aren't forming habits that could cause issues for you down the road. If you need any help on this stuff just shout.
Great job. As you caught onto, the occasional fret buzz was because you were playing the lower note of the pairs further away from the fret because of not using the finger roll. I played it like this too as I struggle with finger rolls. Or if you are fast enough you can move the finger that plays the higher note out of the way each time. Or you can use the same finger for both notes and just bounce back and forth quickly. It's definitely harder for us that struggle with finger rolls or finger barres.
Yep, you're right I change posture a lot, rest the bass on the left or right leg, tilting the neck up or forward, etc, some days one thing works others not… for this song I didn't get comfortable, everything was awkward, so I just winged it…
That's a fun toy, might get it, thanks
I could not recommend this any higher. It is one of the best investments you can make. Not just for what it can do, but for what It can teach you. There are plenty of threads that go into detail about the benefits, so I won't repeat them here.
Just search the forum for Zoom or Zoom B1-four , Zoom B1x-four, Zoom B3n, and there is alot of stuff you can read thru.
Here's my recording for Folsom Prison Blues. I definitely got the "homework" vibe on this one too - but like any (good) homework it did teach me a couple things. I didn't realize just how much I rely on a drummer to keep time, I definitely struggled to keep a steady pace without one here (I know there's something clicking in the track, but it's not the same as the familiar kick/snare we're used to). That, combined with the somewhat jarring beginning of this song prompted me to learn a couple tricks in Audacity to create a lead-in click track, and then later extend it throughout the song in lieu of a metronome.
I fumbled the ending a bit in the recording but I couldn't be bothered to keep doing more takes - for me this isn't about getting it perfect.
Watching the video I think I'm probably moving my wrist to much on those finger roles too, although it didn't bother me while playing probably not a good habit to get into.
Looking at Highway to Hell I'm definitely going to have to do more focused practice to get anything halfway presentable.
Good job on this. It's actually a deceptively hard song because it is so repetitive and there is nothing to hide behind. I also struggle to get a perfect take, no matter how perfect I get it before I hit record.

I think in this song you had the tendency to play a bit ahead of the beat, particularly at the beginning, but settled in to it more as the song went on.
One thing to mention is that I find it interesting how you twist your wrist when playing the main two low notes on the 4th fret of the A and D string. I don't know if there is anything wrong with this, but I'm not used to seeing it. Most people keep their wrist in the same position and just curl their fingers more to get to the higher strings.
Overall though, you did a great job on this one. Notes were consistent. Didn't hear any rattle or mis-played notes. Tone was good.
Great job @GanglyCloth!


Sounds very good @GanglyCloth.
I think you were very even with plucking etc. Yes a bit ahead of the beat in places. Agree the wrist should not be turning as much, so now you have things to keep in check.
I agree each song is teaching me something different, usually something I don't do very well.
Remember all, we are not trying to get perfect takes, we are hear to learn vs. perform. If you can post all 50 songs with 100% perfect takes, you probably don't need this challange.
When we get to #50 and start looking back, I think we all will be very happy with what we see.
Good job @GanglyCloth,
You know where you have opportunities for improvement,
That's the way progress is made,
Good work,
Cheers Brian