Hard road travelled, but I figure this advice will be good for any who are releasing their music, or if you plan to in the future. Here are some things to help you along, and really helped me.
Sign up for Distrokid. They are a distributor. They help you release your songs to EVERY platform (Spotify, iTunes, YouTube, Pandora etc…). They let you keep 100% of your royalties AND track all your streams across all platforms. One yearly fee for service, one payment per song (optional) when you upload it.
Get on Pandora and Next Big Sound. Free service, helps you both promote and track your songs on Pandora. You can feature a song when it qualifies, and every time we have we got 1,000s of streams. Updates each day. It has more analytics, but here is a general example and where we are today!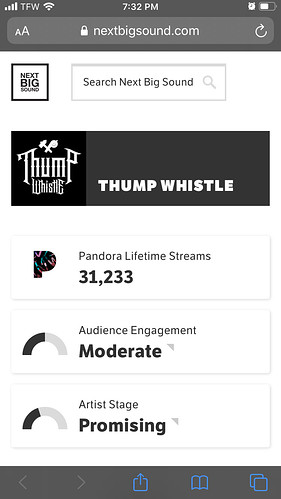 Pandora also has an algorithm that helps match your songs to other artists and get your son played on their radio stations .