cannot begin to tell you how excited i am for this. easily my fave movie about music ever.
Same as it ever was… same as it ever was…
Once in a lifetime experience
i hadn't seen this since we used to go see it repeatedly in the theaters when it came out, which would be high school for me. then i watched it again for the first time in decades a few months ago on youtube, and immediately watched it 3 more times. i forgot how amazing it was and just what a spellbinding performer david was. i get tired just watching him run around non-stop on stage.
btw in one of the youtube comments a guy talks about seeing this tour live and all the things that were omitted from the movie. the coolest thing is that after the stagehands got done building the stage live, they went out into the audience, cleared everyone back and constructed a dance floor that everyone crowded onto when it was completed and commenced to all dance their asses off. man i wish that was filmed.
I remember eating takeout Chinese with my roommate and listening to the radio, and the announcer said that Talking Heads were playing that night and tickets were still available. We jumped into the car and drove down, it was on the Stop Making Sense tour, and as good as the movie is, the show was better live. Just one of those moments in life when it all comes together.
They took out a bunch of seats and laid down a dance floor in back. Only band I saw do that in an arena. Mostly groups are we want more ticket revenue.
What would be even better is a tour….fingers crossed
Wouldn't count on it. David stopped talking to Tina and Chris some time ago. No fights or disagreement, just stopped talking. In his defense he is neuro divergent by reports
Even back in 1990 or so, I saw Tom Tom Club, and they started playing Talking Heads tunes (as one does), and Chris says "You might ask yourself,Where's Dave?" And Tina responded "We don't know!"
The "other three" just reunited in New Haven and are touring and doing Tom Tom and Heads stuff still
Oh yeah Jerry was along on the tour I saw too. Positively crazy set, Tom Tom Club/Jerry Harrison/Ramones/Debbie Harry - literally billed as the Escape from New York Tour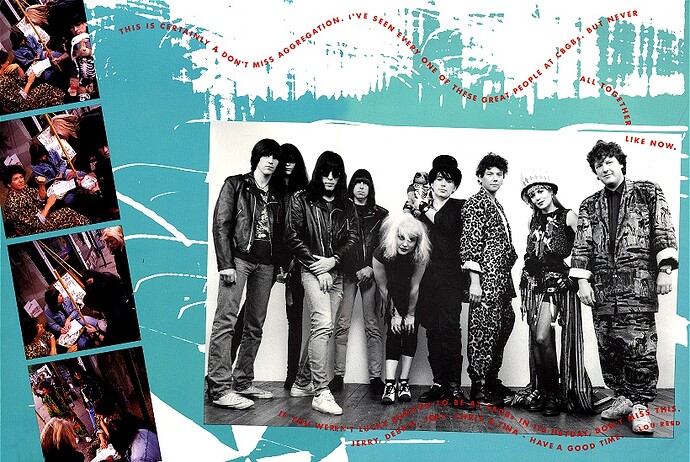 One of the best shows I have ever seen.
Chris sings Heads tunes just fine.
I think Chris Stein was along with Debbie too (looks like him in the pic). Definitely played lots of Blondie.
Was that at Toad's Place? That and the old Whalley Theater in New Haven were great small venue clubs that hosted big names. I saw so many there - I grew up in the area. Rolling Stones, Ramones, Katrina and the Waves, Psychedelic Furs, Violent Femmes, Bangles, Nena, Ladysmith Black Mombasa, BB King, Joan Jett, Molly Hatchet, Berlin, just the bands I remember off the top of my head I saw at Toad's
Sadly, Toad's is no longer called Toad's - It's College Street Music Hall, and that's where they were.
They had a bunch of really bad incidents there and it got shut down quite a while ago and then ultimately rebranded.
Saw more bands than I can count there too.
People ruin everything, sigh.
that's too bad, but glad you saw them. Toad's was great