They're even cheaper from Amazon, @PeteP . . .

Here's where I got mine:
Cheers, Joe
Welcome aboard, @malcolmstead . . .

Hope you enjoy your time with us . .

I hear ya @PeteP… That's why I only use the Quick Disconnect type strap locks… When you're done playing, just push a button and release the end of the strap without having to lift anything over your head and slamming into anything hanging off the ceiling…
I did loose a bet to one of one of my teenage grandsons once who was playing one of my acoustics that had strap locks on it. Since he was unfamiliar with strap locks at the time, I bet him a Lincoln that he didn't know how to take the guitar off without lifting it over his head… Without hesitation, he slid his arm through the strap, lowered the guitar down and stepped out out of it as if he were taking off his britches… Quite the lesson…
I've been using a dunlop 3 inch strap on my squier jazz bass and I love it. The ends screwed in fine and holds fast. The wide strap is very comfortable since I play slung rather high.
It's just the right thing to do and a satisfying way to do it…
Does anybody know what these are?
They were on one of my Squier VM Jazz's when I bought it, but they don't look like standard strap buttons to me.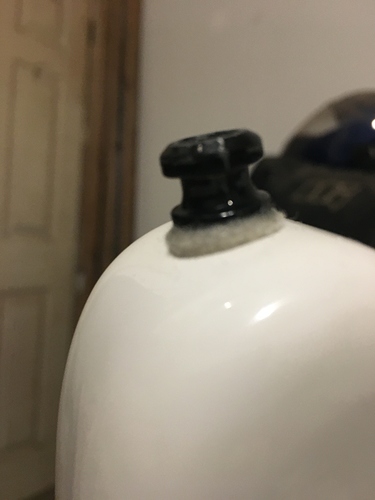 it's the Schaller strap-lock system (that's what I use)
Aha thanks terb.
Can I get the parts seperate?
I only have those buttons screwed to the one bass - I don't have the parts for the strap.
Can I get buttons for all my basses, and one set of the strap ones for my main strap?
That would be really handy.
Yep, you can buy the parts seperately. Search for "Schaller S-Lock".
Hmm actually - you can buy the buttons, lock wheels, and screws separately, but it looks like the locks only come with buttons. The idea is you only need one set of locks per strap and then buy buttons for all your basses, so you can use one strap with them all.
They are not too expensive though, and I recommend them, I really like mine.
Is there an issue changing the strap locks attached to your bass? I'd be a bit nervous about unscrewing the originals and screwing new ones in. I mean because the wholes would be loosened from the previous ones. I certainly don't want new holes out in the body.
No issues apart from the usual caveats with wood screws. And there's always the toothpick trick if the hole strips.
yeah, worth the minute you will spend with your screwdriver

I use the washers from the Grolsch beer bottle tops
You are my new hero.
I use the flush mount Dunlop Straploks. I had to drill small holes to get the recess, but it was worth it. Now I have the quick release without the knobs protruding.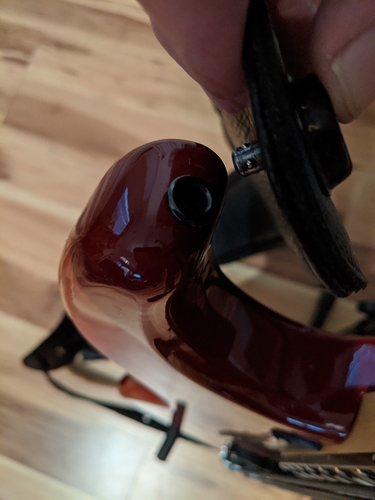 I didn't knew this integrated system, that's nice !
I won't change but it's cool to know it exists, and it gives a pretty neat look to Rosie !