I found a ZoomB1Four on Ebay for $149 and pulled he trigger (you mob are enablers eh)
Correct, I forgot to mention that. I believe it was only $50 when I purchased the license a few years ago.
Still a bargain for what you get

You won't regret it

Like @howard said, it's a great pedal. Very worth the investment.
Ok, got my Zoom B1 four in the post today, have pent about 3 hours playing with it and i am actually bassed out.
Soo much on it stock!
NFI what I am doing


One of the biggest bargains in music

Hi! How could one achieve this with pedals?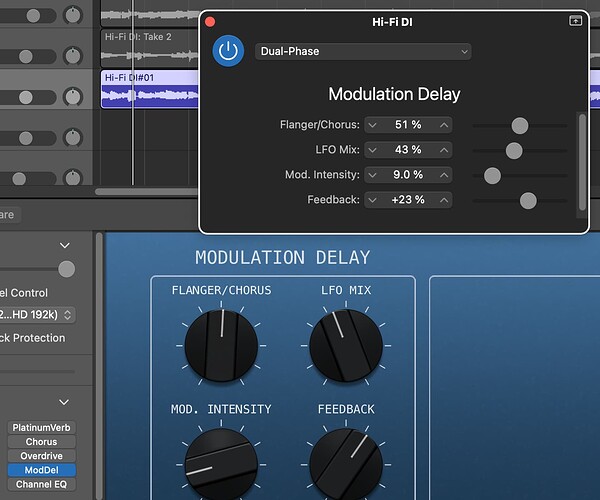 I found this setting in GarageBand and I love it.
DUAL PHASE Modulation Delay.
Is there a pedal that does this?
Could I achieve it with my Chorus pedal plus a delay pedal?
You could probably simulate this with a chorus or a flanger. The chorus "rate" would map roughly to the LFO mix. The chorus depth would be relatively low. The flanger would have pretty flat settings.
Or you could just keep doing it in software! It's a lot more versatile. This is my way.
Thanks for the tips. Great! I have very few pedals but I happen to have a BassClone (no LFO as far as I know) and a cheap flanger. I'm going to give it a try. But being practical, you are right, I have it in GarageBand. Thanks a lot!
All chorus I know of have LFO's; it's the "rate" control.
@howard I immediately thought of the UK techno LFO. My brother got me a bunch of albums from the Warp label and there were some real cool oddball tracks on there.
Used to love them. Warp's whole catalogue is so damn good.