Fantastic growth and progress, @Fahri !
Bravo.
As many of you know, I had been playing a NS WAV electric upright bass a couple of years ago. I had thought it would be easy to play, since I was already an electric bass guitar player. I was vastly mistaken! I became frustrated and gave it up. I sold the instrument in December 2020.
Like many instruments I've sold, I grew to regret this one. Now, while working my way through this cancer situation, I have thought more and more about the upright bass and have decided to give it another go, this time with the understanding that it's a completely different instrument, and I must treat it as such when practicing. Sure, the notes are all in the same place, but that's where the similarity ends. Plucking is different, as is fretting. Arm and hand positioning is different. I really don't think going from bass guitar to upright affords any advantage, and that's what I need to keep in mind.
With that said, I began searching for a used NS WAV and found one in mint condition on Reverb. After a session of offer-counteroffer, I finally got it for a price I'm comfortable with, and it will be here tomorrow. My last one was transparent red, but I wasn't able to find one in that color. The one I'm getting is white, which would not be my first choice, but it will do.
I'll post pictures in Show us your Basses when I get it, but here is a preview.
I needed this as a tattoo on my arms during college as I limped my way through the transition. It's brutal to be so close, yet so very far away.
I'll be joining you all soon. I just bought an NS WAV 4 on Reverb. I'm really liking forward to the challenge.
That's what I have. You'll love it!
What color did you get?
White. It was all they had. My fretless p bass is also white and I have a fretless neck on order for my white 5 string jazz bass so I guess it's a theme.

Edit
I just looked and see you have a white one too.
I had the transparent red one but sold it in December 2020. This time I could only find the white one.
Can you install a pickup under the fretboard for rockabilly slap on those or no?
I've done rockabilly slap on mine
My NS WAV 4 arrived today. I played it a little when I got home but didn't have a lot of time. It's definitely a different feel. Sounds good though. I took this pic at work when I was checking it out.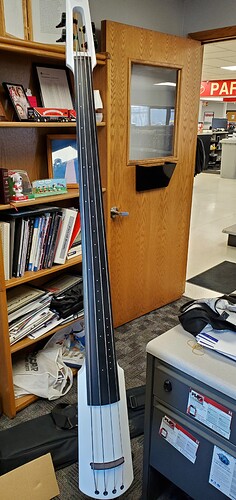 Let us know how it goes!
I hope the transition is smooth.
I am learning both together with bass to badass. I play a lesson on one and then the other before i move on to the next lesson. It's basically the same. One is horizontal and the other is vertical.
Congrats. For the most accurate acoustic double bass sound, keep the toggle on Arco mode. You'll also want to ditch those stock strings.
Beware, they are two completely different animals in terms of plucking technique and distance between frets. You have to train your muscle memory for both.
That's what I'm finding. The distance between frets is really throwing me off right now and so is plucking on the D and G strings. Even so, I know it's going to be a fun journey learning to play it.
Yes Ma'am i am very much aware of the differences.
I just got a WAV4 today as well. Any recommendations for strings?
@pam. Is that three? You're a trend setter!