There are different channels/modes available that you can change between by pressing the power button.
The light is not the battery level but the GAIN. Short press to power button changes between 3 different levels. Green is the highest gain.
@eric.kiser did you return yours in the end?
@Fahri Yes. I sure did. With the technical problems I was having and that I never got a sound I really liked, I had to let it go.
Been using the Amplug for a while now and I realized that I could use it to make VT Bass Preamp have a headphone out. This is an awesome way for me to practice AND still sound like I want to sound. So very happy this idea came to me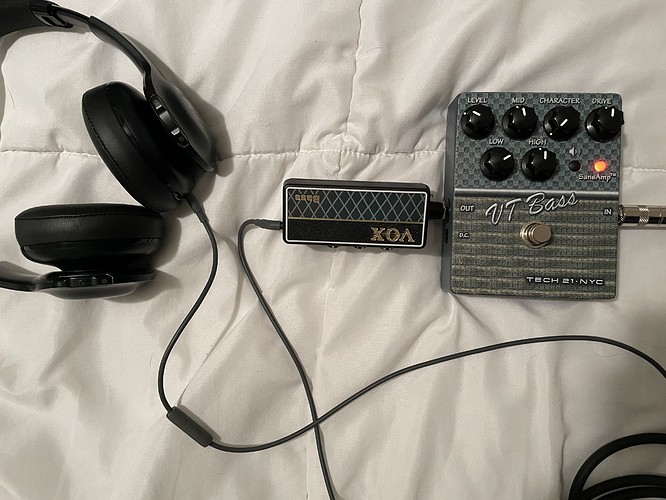 Man I loved my VT Bass DI. Fantastic sounding preamp.
If you get a adapter cord to go from the Amplug (female 6mm) into the VT (Male 6mm) Bass, anywhere from 6" to 6" of length, depending on how closely attached you want to be, it would probably be safer for you. A good yank could break the Amplug off into the VT Bass, and that would not be so fun.
Aside from that, awesome Idea, and there is probably no limit to what pedals you could chain up to run into the Amplug.