Greetings fellows,
This year was something special, as Wacken happened during heavy rains and extremely wet conditions. There are around 85,000 people who usually attend, and at least a third of them was not able to come this year. I wasn't planning to park on the grounds, and I am so happy I left the bike at a friend's place in Bremen.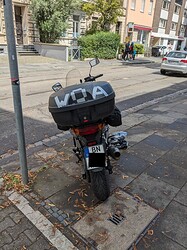 I was fortunate to make it in late on Tuesday just hours before further arrivals were excluded from entering. We camped on an airfield ca. 16 km (10 miles) from the festival grounds.

So, instead of camping in the mud, I was lucky to get 60+ minutes of bus riding every day. Oh, and add a few hours of waiting and walking to the bus, too. Can't complain though, I was there!
For me, the draw is usually to watch as many bands as possible and to meet my friends; it's a kind of family vacation. My highlights this year were Lord of the Lost, 0% Mercury (from Ukraine), Iron Maiden (it was fun in the mosh pit, if not their greatest show ever), and While She Sleeps.

Honourable mentions to Mr Hurley und die Pulveraffen (Pirate "Rock"), they were so much fun in the front row - and had a great bass sound! A classic folk band that plays drinking and dancing songs (true metal fan's might need a rum before listening).

Of course, there were almost 200 other bands, but wading through the mud made it hard to watch everything you wanted to see.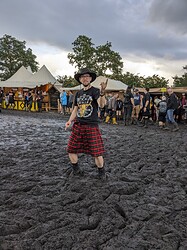 So, this was this year's festival season for me. I have a cold, my boots still stink of cow dung… But it was worth it!
Back to practicing!
Cheers,
Antonio