That is a "string tree", @akos
It helps to maintain correct string tension.
Cheers
Joe
They help angle the string in the nut more properly in a bit of a downward slope due to the longer lead to the tuning machine.
Some basses (mainly Fenders) need one on the A as well.
Fender sells an aftermarket A retiainer/tree thingy for this purpose.
E strings never seeem to have this issue.
It also helps to keep the lighter strings from slipping up the posts, the E string is heavy enough for it not to move, this is IMO opinion.


Cheers Brian
I wasn't aware it was referred to as a "tree" until @joergkutter pointed it out to me in an unrelated thread. Looking at it, I would never have thought of it as a tree, but the answer is what everyone else said.
That picture makes it look like it's floating instead of being attached to the head. Do you have a picture from a side angle?
That's the nicest looking string tree I've ever seen. Very elegant!
Here is that Fender A string retainer I was talking about.
I might actually get a few of these as a couple of my A strings teeter on buzziness depending on where the neck is set.
They call it a stealth string retainer (oooh, fancy) becuase you mount it under the A string tuning machine nut.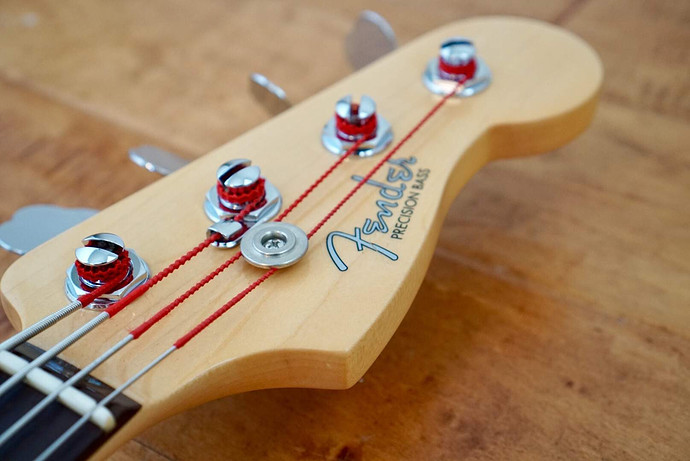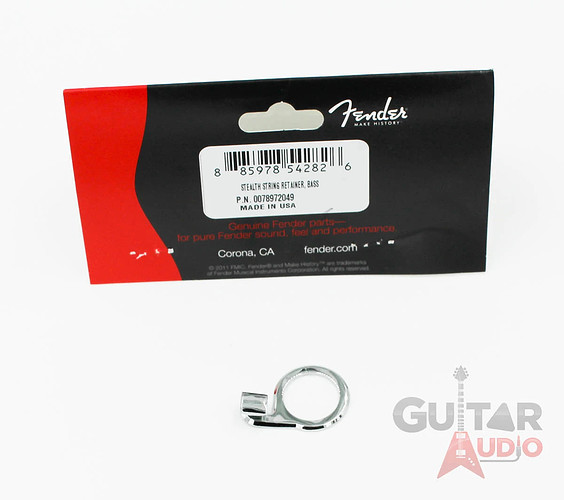 And a fancy price at $40ea delivered, on Amazon Canada

Just noticed that American Standard Jazz Bazz replacement nuts are $37 delivered, for a pack of 2, and they are not bone nuts.
A pair of replacement nuts for my Yamahas cost me $15 all inclusive, a couple of months ago, direct from Yamaha Canada. Go figure.
$15.95 on Reverb here in the good old U. S. of A.
$24.95 on Amazon delivered.
It's expensive to be a Canadian these days.
You got that right.
When I ordered my Zoom B1XFour I talked to Sweetwater in the US and they told me my final cost would be close to $250.00. Fortunately I managed to find one from a Canadian supplier on Reverb.
By the time you add the approx. 30% US/Canada dollar exchange rate and 13% Tax to the above US prices it drives the prices up a bit more. Your Reverb price goes to $23.43 on Reverb and the Amazon price to $36.65.
It's necessary to create steeper string angle from the nut to tuners for a proper string intonation and retention
This is correct and @akos you can find out what it sounds like by loosening the strings and running them above the string tree in the name of science. You won't damage anything. You might get some buzz or if you're really lucky a kind of sitar effect.
Probably because the headstock on the Gibson is tapered back more than the fender​:thinking:


Cheers Brian
Yep. That is a cool looking string tree/retainer thing.
I - in turn - learned this term from @eric.kiser , if memory serves me well

I am a bit partial to the Sandberg trees: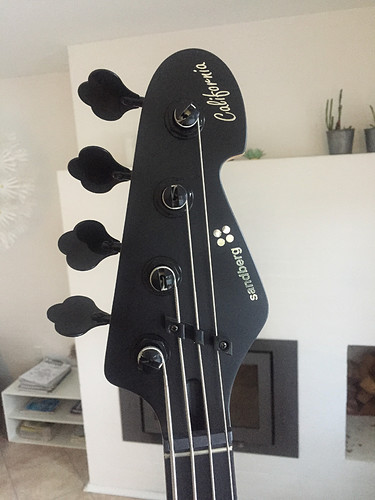 Oh yeah. I like that one too. Is that a Gotoh string retainer.