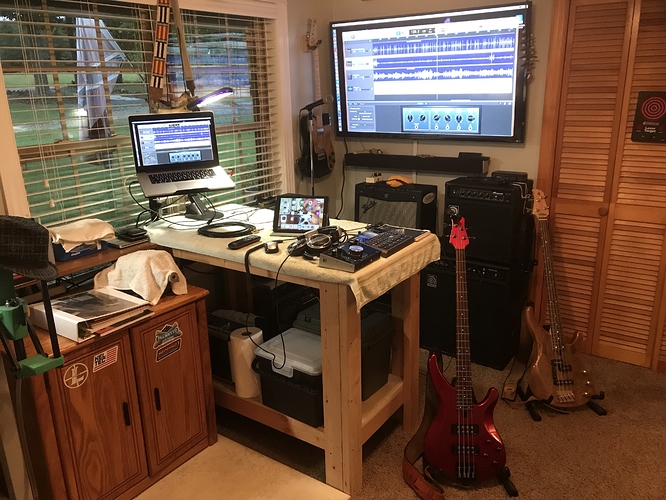 Does anyone else enjoy laying and mixing tracks of music to just experiment and play with how different instruments interact with each other? I began taking the B2B course so that I could play bass lines to the drum tracks that I create on the Alesis, and also the rhythm tracks that I lay using one or more of my acoustic or electric guitars. I'm not even close to being what most would consider 'good' at any of it, but hey, I'm retired and the only competition I have to deal with is "Myself"…
One of my latest 'finds' during a Saturday of Garage Sales around the Macon Georgia area (Home to the Allman Brothers) was an entry level interface. What I was doing before using an interface was plugging my instruments directly into the USB port on my MBP. So, for a single 'Jackson', I picked up an M-AUDIO M-TRACK C series interface. It didn't have the software, and does show a little use, but hey,… it works like a charm!
Recording has now become even MORE fun, and being able to lay simple clean clear bass lines makes it even better!
I haven't had this much fun since 1972 when I pulled R&R liberty in Kaoshiung, Taiwan!