Even though most of my basses are used I keep having mishaps that make me very weary of buying anymore. My question for you is "Would you have bought it?". In other words, am I expecting too much from used purchases?
My favorite basses so far are Warwicks followed by Fender (which I have a weird relationship with). I have had 5 Warwicks and still have 3. When I saw a Fortress from the 90s for sale, I was ready to buy. The seller described it in very good condition and the pics looked good. There was a ding on the face of the body and 3 marks on the lower edge. No worries.
When I looked closer at one pic and noticed a ding in the side of the fretboard at the 18th fret. This is where I get fussy. I want the neck "ding" free. Both the fretboard and the back of the neck. I don't wanna feel anything while I play. Despite this I thought I could live with it. I asked the seller if there are any other scratches or dings (then what is shown) and most importantly is the truss rod functioning properly. They stated it had a new truss rod (you can change the 90s Warwicks rods) and they'd send me any pics or vids I want.
I am not even too worried about electronics cause I can repair/ replace them but its nice if they work.
They sent me 3 videos of the bass (mini tour) via text. Obviously these videos didn't not come out too well being so compressed so I asked if they could email them. They did and I was very thankful. Then I found the thing that ended it for me. While playing the video back I noticed a dent in the fret board. I thought maybe I could even repair this but I wanted to ask about it. I did and they sent me a photo of it and to me it looked worse. The E string was imprinted into the wood and the fret wire slightly dented.
I would have loved to get it but I know this would bug me especially when I know there is another fretboard ding. I'm also wondering what hit it took to make such a clean imprint in the fretboard.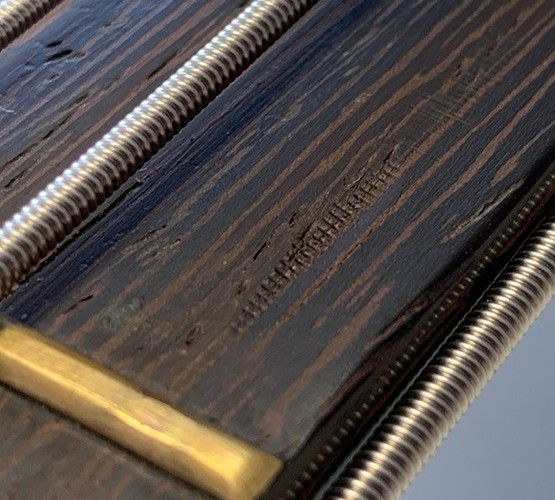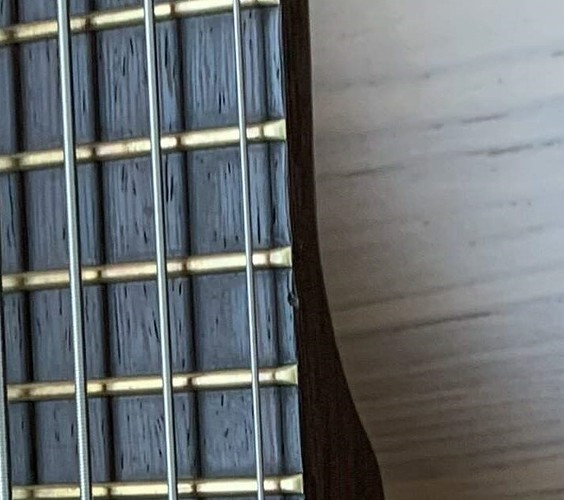 I know they are not too big, but when I am spending what I consider a lot of money (and after being burnt before - G&L story I posted) these problems are hard to swallow.
So, would you have bought it?