What are your thoughts on Chris squire and John entwhistle. Who would win in a bass challenge?
It would probably be a tie, @Dopechicken . . .

Cheers
Joe
Here's a question to your question @Dopechicken.

How do you win at music?
You know what I mean, no one wins at music, in just asking peoples opinion, who would get the golden pick?
Today? A tie for sure. They're both dead.
Back in the day? Hmm. Squire played with a pick so I'll go with him out of solidarity.
Which one do you like better? That's what's important.
They're both very good. I refuse to try to rate one over the other.
I would have to go with chris, just cause he played with yes.
I love YES, have seen them live a few times in Melbourne


Cheers Brian
I've seen both, and it would be hard to choose one over the other. They also served very different functions. For the Who, live Moon was all over the place with tempo, so Entwistle kept the whole song on track. Moon and Townshend would stare and riff off each other while Entwistle kept the beat.
Yes had a very different dynamic, and had many songs which are ployphonic, with Brufford and Squire playing in one time signature while Wakeman and Howe played in a different time signature.
Yes played more to the written music, while the Who had a lot more improvisation. Two different skill sets.
YES live in Montreux is a great concert, I watch it regularly

Cheers Brian
Both pioneers in a way, both iconic. John had this weird "finger-slap" style of finger picking, gave his lines a bit of percussion and a harder dynamic sound. Squire used a pick, but without knowing that you could almost think by listening to him he was slapping at times. How he was funky with a pick but more Prog-rock style at the same time? I don't know.
This is really good stuff and it shows John Entwistle's style of playing. It takes a while for his part to begin but it is worth the wait.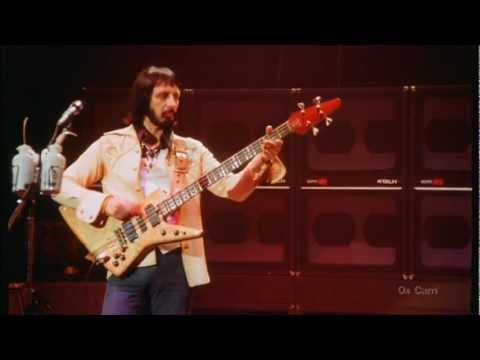 Squire had a unique style where he hit the string with the pick and thumb together. He held the pick really short
Musicians are different, per se, than comparing athletes. Even more so, in terms of musicians, we're often comparing two to a baseball player and a football player. Different styles, different genres.
It's art, and obviously (mostly) entirely subjective.
Who was the better singer, Layne from Alice In Chains or Scott from STP? Hell, I don't know. I lean more towards liking Layne, but better? Not putting my dog in that fight.
Between your choices, probably Entwistle I like a bit better. Tbh I listened to a lot more 'Who' than 'Yes'.
I know this might make me a heathen but I actually have a strong dislike of Yes - they almost put me off the whole prog genre - and never really got in to The Who (though I can appreciate them).
But even so I can really appreciate both of them as bassists - they are both fantastic.
I think Entwistle was more innovative. One of, if not the first to put bass in the lead roll as Townsend wasn't playing any solos to speak of. Squire wasn't conventional but he was still filling the traditional roll of the bass player. Though they are both absolute icons, there are a ton of bass players I'd rather listen to than either of them that probably wouldn't be the bass players they are if it weren't for those two.
It's so hard to measure the impact of so many. Like Victor Wooten is revolutionary on his own, but without Jaco, how much would he be who he is?