Note that both the guys in the top image are dead

Yep and the movie also sucked

but still, amps and motorcycles are cool

Note that the guys in the first image were born to be wild.
And the guys in the second image were born to face plant.
…and still got more chicks than the bottom two ever will.
I wouldn't know about that… I mean, they have beards.
You can keep the chicks with beards.
Now that you lot keep ragging the scooterists, I've got the urge to see if there's someone riding around the world on a scooter… I haven't found a world traveller, so there's your personal world record if you want it, it's up for grabs still.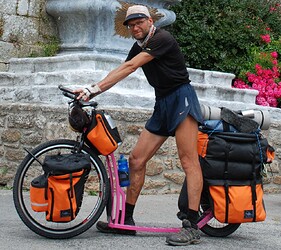 And take your pick of long distance scootering on YouTube.
Well, according to the movie, it was precisely two hookers.
My money's on Fonda and Hopper, all day long.

necrophilia? they die right after that shot
Talking about the actors. They were as real as the scooter hipsters.
And a doughnut.
That's gotta be Frank on drums too, you can tell even with just that tiny bit

Precisely two more than scooter boys ever got. Lol.
Something about this makes me feel queasy… and it's not just the quilt