Looking for decent bass sites that have correct transcriptions. What cha' got!?
@tonyrobichaux1 take a look at bassbooks.com. I've ordered several of the transcription books with instant downloads. I just got Thriller because, if i was going to practice Billie Jean, and hopefully gig it, I wanted to get it down accurately. They show you the table of contents and a couple of pages of each of the transcription books. Highly recommend.
I use Ultimate Guitar Pro over on their site. If you want to play a lot of your favorite songs, chances are they have a tab of what you're looking for. The free user-written tabs are usually sketchy, but the "Official" and "Pro" tabs are written by professional players with sheet music for every instrument as well as tab. If you're interested in having an endless supply of reliable tablature I definitely think it's a good value. The Pro membership also goes on sale every once in a while, I got mine on a New Year's sale for only $2 a month. I find the interactive tab player really useful since it lets you give yourself a backing track, isolate the drums, stuff like that. Definitely wouldn't use the site without the official tabs.
Hope I helped!
I mainly use YouTube sites as opposed to static tab sites. And I use Songsterr when I can't find a good one on YouTube. YouTube and Songsterr (if you pay) both let you slow down the song, which makes it easier to practice. Songsterr also lets you repeat sections.
Main YouTube sites I use are:
and
I just checked it out and found a couple of books I may order. Thanks for the heads-up!
How good are these bass tab books? I'm asking because from my experience they tend to add notes that are never actually played.
+1 To Ultimate Guitar Pro. As @huntergknecht said the free tabs are hit or miss but Pro gets you access to their "Official" tabs created by UG staff/musicians, with a nice play-along web app + mobile app. I've been on it for 3-4 months and get a ton of use out of it, and all the bass parts have been accurate from what I can tell. They actually have an 80% off sale going for 8 more hours, makes an annual membership $25 – https://www.ultimate-guitar.com
Youtube bass channels are awesome! I found a great thread on the Talkbass forum here that takes a look at a bunch of small bass resource channels. Some of them have libraries of bass reference going back 10+ years, go check some of them out if you're looking for more resources!
Hope I helped,
-Hunter
EDIT: Just to add a little bit more, a couple of my favorite channels I got from this thread are:
Luke from Become a Bassist
as well as eBassGuitarLessons
These channels have a bunch of great instructional content and I particularly love Become a Bassist's beginner bassline videos. eBassGuitarLessons are a bit more focused on theory and improving your practice schedule, which has also been a great way to expand my learning.
I was using their trial tabs without features and really was tempted to buy a subscription cuz the actual tabs look right based on watching a guy on YouTube. The same deal is on now. Gotta be worth it right?
All the Official tabs I've used have been reliable, never have a problem with them. The Pro features are really good too, being able to slow down the tab while you play it is super useful for practice and you can also loop specific areas to bite-size riffs more efficiently. I'd say worth it, especially on sale. Go for it!
I got it but went to play the interactive version and the sound was intolerable.
Is this something at my end?
I got the ultimate guitar pro sub. If you go through the app you get a first time subscriber deal which is £14.99 for year which i thought was pretty decent… Havent looked at it very thoroughly so dont know how deep the catalogue is but I think its pretty good… Thanks for putting me onto it.
On YT: Constantine Isslamow does good covers / various genres. His earlier stuff doesn't have score/tabs, but all of his later stuff does and they are in pdf / printable format.
Hello @bjams, do you know if I can try the site before inserting my credit card details?
Even for a free trial, I have to put the info first, which is annoying…
Hal Leonard books are good also.
Also, any opinions on Songsterr vs Ultimate Guitar Tabs?
Another thing about ultimate tabs on pro you go down to end of song and there's a guitar pro file that you can down load to sound slice open Notation or transcribe the song on soundsllice. then down load music from YouTube. Sycn both together were B2B aluminum no problem and you got your very own Notation and music to song. Very effective practice tool. Plus you get to sync the music which is also good practice.That how I roll. Tip for B2B



both have errors.
For the free tabs, Songsterr is far superior in general in that its tabs have timing info - i.e. the tabs are broken into measures correctly with a time signature, rests, and note duration. It's almost sheet music.
Their player is cool and lets you dub in and out the other parts at will, with the current part emphasized.
I always use Songsterr if they have a tab. I have found some errors there but fewer than the free ones on UG, which I correct fairly regularly.
Pro tabs on UG are reportedly pretty good. Not sure if they add notational features like Songsterr does.
Songsterr with time signature, rests, eighth note octaves:
Sixteenth note chug: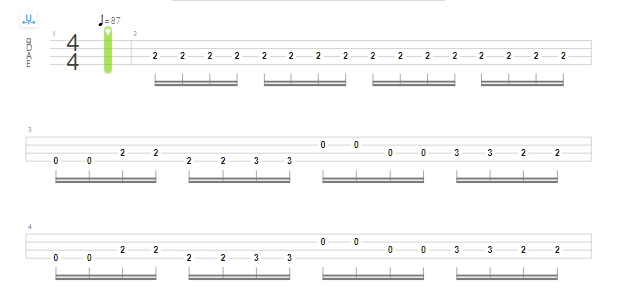 overall, really cool tabs, sort of bridging the gap with standard notation. They also do note ties and other notation you would expect. Probably as close to sheet music as tabs get.