No, not the price, I was boggling at the "louder" bit. $500 seems a little pricey actually but not bad.
Oh, yeah.
I would say its priced right. I don't ever see these for sale used in my area.
Just looked on reverb, the used one is $522. New is $799
Oh I got a hard case with it too, new as can be.
He said his wife told him to get rid of things.
Yeah, that sweetens the deal for sure
Retail prices seems to go up too. The LTD ESP guitar I had is now +100 euro more. I see guitar prices for other brands going up too but not as fast as ESP.
@John_E nice bass!
Ah now I get what he means by "not loud enough", he could still hear his wife!
So what is interesting here @howard, a quick google search on these EMG P/J HZ passive pickups (esp with the magnets completely covered) shows that these pickups have weak magnets, and therefore aren't 'loud'.
The general guidance is to set the height as high as you can without the strings higging them when you play, then tweak across.
Looking into whoever set this bass up, there are lots of things I don't like. He said he had it set up, but if he did, I would like to know the guy's name so I never go there.
The neck was flatter than flat (which should be the opposite this time of year).
The E string saddle was not level, not even close, about a 30 degree angle. None of the saddles were level actually. String height a mess to. Oddly, intonation was spot on. The nut seems fine though.
So, will setup the whole thing properly and see what we get.
Once again, the importance of a good setup, and knowing what one is or isn't, is really important. You really can't judge a bass' true ability without one.
Fender guide suggests when the string fretted on last fret towards bridge the distance between top of the magnet and bottom of the string should be 2.8mm for bass side (E string) and 2mm for treble side (G) string.
Tonerider Pups I tried out came with a manual saying 3mm…
So far I have been happy with testing out with a M3 alien key…
Yes that works for Fender, however, EMG pickups are different.
They apparently use much weaker magnets, so the standards don't apply.
I just learned this today.
This black beauty will be mine.
They look fantastic in person. So do the red ones. I wish Fender did more matching headstocks like that.
I love all black instruments. This one is available in second part of July, but I will be depositing half the money next week so now the 2 months of wait.

There is an Aerodyne on either Reverb or Talkbass, can't remember, used right now, USA I think
2 months are good with me

… I am now in the second part of the course and because I am more in to composing than playing other's songs I am not as fast as I could, nonetheless, I guess the second part of July will be around the time I am done with the course and as such already worthy of such beauty.
Always liked the looks of that bass. And the PJ setup.
This is my next bass. Schecter C4 GT, mahogany body, 3 piece maple neck, ebony fretboard, EMG 35P4 precision pickup on the neck, 35DC on the bridge, active with an EQ. Pretty stoked
Here is one I have been eyeing for a while, even though I am positive it won't do anything my MIA Fender J-Bass won't already do. Heck, to that point, maybe even my Fender MIM Mustang I recently got. I think these are MIJ…anyone know for sure?
Fender's
AERODYNE™ JAZZ BASS
Anyone on here have one or even played one? OUCH, the GAS is killing me!! LoL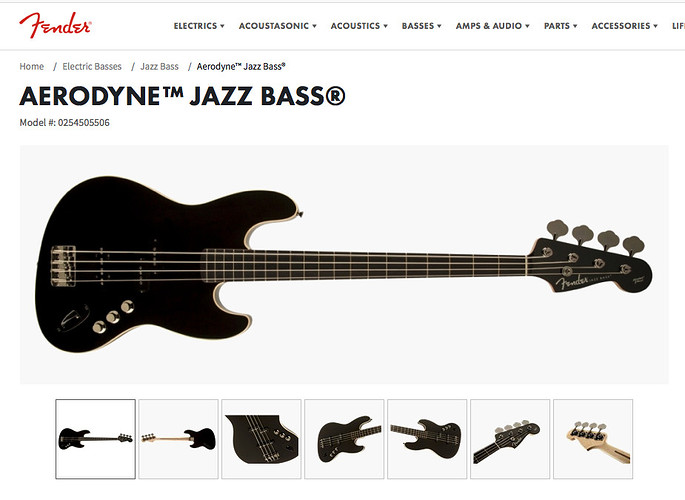 Wow that Schecter looks amazing. Absolutely love the inlays. Features tick a lot of boxes too.
Pardon my post from a few minutes ago - or please do respond if you see fit - didn't realize I was the only one eyeing this one.