I'm searching for a Alpha Omicron clone

That would be super awesome, it's basically tied for my favorite Darkglass pedal with the Microtubes X.
I want to put a nice word out for Musikdings, they have really really excellent customer service. Great selection of kits too.
A brief guide into tracing out a PCB to convert to schematic ; B3K Clone :
Now that is dedication and patience. I was wondering how people did this because I couldn't think of a better way than brute force. And it turns out they use… brute force

I already did that for full amplifiers

and I plan to do it very soon with the DG Vintage kit, because I can't find the schematics
hey look what arrived today !
and this picture is a bonus for @howard : a few J201 transistors …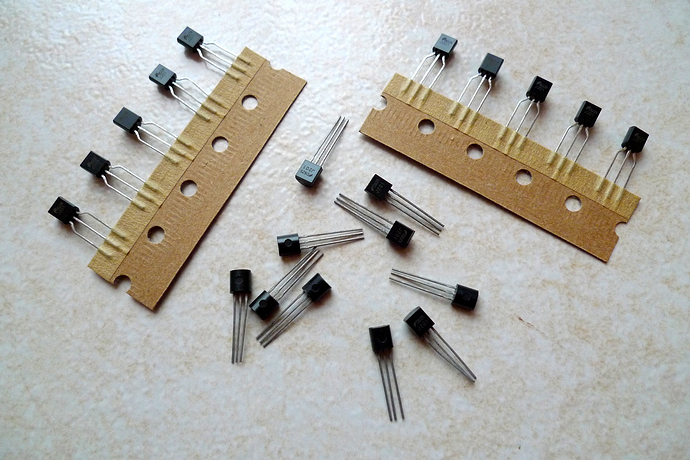 ooh that's like gold

"new old stock" stuff

I don't know yet if I will invest time to trace the PCB of the Darkglass Vintage Microtubes. might be interesting … but long … but interesting … but long …

I contacted the Shalltechnik guy to ask him for the schematics. he explained me that his hands are tied regarding to the particular case of the GUMA pedals … what I understand is that there are legal considerations. so, even if I trace the schematics I won't be able to share it publicly here.

I swear I have seen them somewhere.
the B3K schematic is available but I was unable to find it for the Vintage Microtubes. I guess those are pretty close, that's exactly what I want to determine … well at this point I'm almost sure I will trace the PCB.
I finally found some time to finish this preamp yesterday evening. So, it's the Shalltechnik Growling Krizzly Deluxe, which is the full reproduction of a Gallien Krueger 400RB preamp (with footswitchable boost and effect loop, and all the voicing switches).
It works perfectly and sounds great.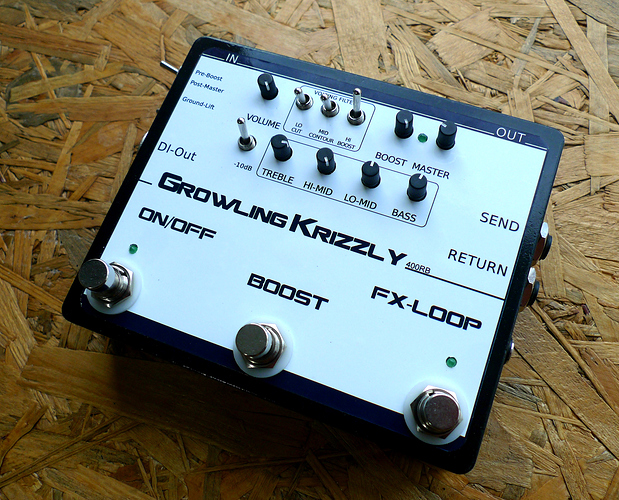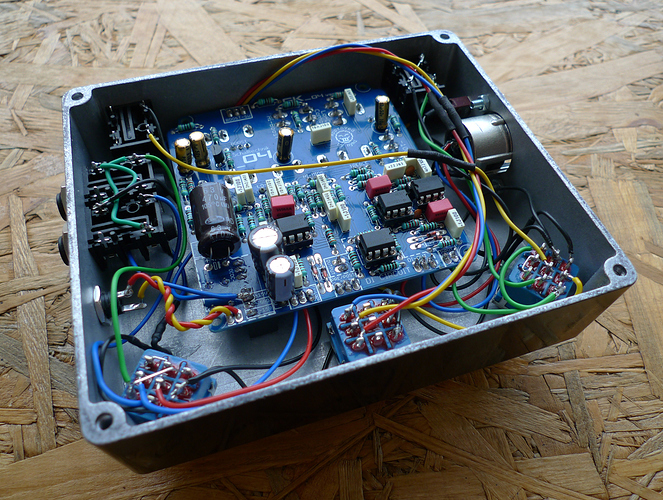 So cool. Post audio samples!

yeah I have to find a bit more time for this

but yeah it sounds pretty much like a 400RB

Dude that's awesome! You even made it look really cool. I'm more than a little jealous right now.
Did you make any modifications to the original design?
I modified the label sheet but from an electronic perspective it's 100% the original design. That's what I wanted : a pure GK 400RB preamp.
That said, if I had to re-build one, I'd change one small thing : the location of the "Boost" LED and the way that the LEDs are wired. the anode circuitry is not very logical for the Deluxe version (but it is for the Basic one, with only one footswitch). nothing very important.