Good choice. I also bought the LT25 and love it. Great little practice amp and effect presets are fun.
It's a great little practice amp. My son got one for his birthday and now I got my ZOOM B1Four back

Y'all are awesome! I bought a Fender full size acoustic/electric after not having a bass for over 20 years. Found out quickly full scale and big neck were just enough combination to cause fatigue, and fast!
Started reading up on short scale and pulled the trigger on a Bronco. Loving it.
Last weekend, bought a Rumble LT25 and started practicing through the phones while stumbling through the presets.
Found a forum or two like this one, recommending the Tone app and firmware update. BINGO!
Last night's practice was great fun, and I am looking forward to making a Top 10 list of songs I want to work on for the next stretch of time.
Joining this forum and some FB groups dedicated to Bronco, Rumble, Fender, etc are probably going to save me from a relapse. Seriously!
Dig it.
I am just starting out and also got an LT25. So far it seems perfect for practice, or jamming in the basement with friends.
One thing I did right away is add these cabinet corners so it doesn't get banged up while carrying it around:
Hi! Can anyone who has the amp answer a question please? I saw that there are presets on the Fender Tone website. Can you download them and use them in the desktop app? Because it won't let me download them and I see that some of the presets have multiple mod/stomp/delay effects but in the app you can only select one of each.
I have an LT25 but I think the 10,000 presets advertised on the Fender website is for certain amps that have WiFi and /or Bluetooth capability.
You're right. I watched a review of the Rumble Studio 40 and it has much more pedals and amp models.
Hey! Do you mind if I ask how You can record the LT25 straight into your computer?
Welcome, to the forum @AQman.
I don't have a Rumble LT25, but like most combo amps it shouls have an XLR (balanced) output. From my amps, I plug that into a DAI (digital audio interface) that goes USB to my computer, and I run it in GarageBand, but there are many other DAW (Digital Audio Workshops) that you can get from the Free download Audacity, the Free GarageBand and then many more stand alone or packaged with DAI equipment.
You can find threads discussing these. Reaper, Pro Tools, Abledon (sp?) etc…
Once you have that set up, you can play the bass thru the computer (speakers or headphones) and you can learn how to record tracks.
On many amps, the XLR output has option of Pre or Post.
This means, if you select PRE, that the bass goes directly from the input to the computer, without any effects or pre-amp eq settings. it is clean bass straight in.
If you select post, it will go to the computer after going thru the Pre-amp and effect settings.
One other trick to watch for.
When I say Pre- or Post either bypassing or including effects, this is ASSUMING, and ONLY if you are using an Effects Loop on your amp, where you send a cord from the back of the amp (or front, depending on the amp set up) out to your effect pedals and then back to the amp (hence being called a FX LOOP).
If you set up your effects like this, then if you select the PRE your effects will be bypasses all effects and send a clean signal direct from the bass.
However
If you DO NOT use the FX loop, and you run your bass thru all your effects, into the input (active or passive) on your amp, if you don't want to get the FX to the computer and only want the clean bass, it will not do that by pressing PRE. If that is what you want, either you need to turn off all the FX and just send a clean signal to the input on the amp, or put the fx on the FX loop and use the PRE button.
Sorry if that is confusing, if you need a little more clarification, I can try to get some pictures, or another member may have a better way to word it so it is more clear.
But ask away, we are here to help. at least try to help.
Welcome @AQman!
I have an LT25. I use the USB out on the top right of the amp directly into my computer. I use Garage Band for recording and it has no problem recognizing the amp as a DAI. I recommend the Fender Tone app to help you to set the USB output level of the amp.
I hope this helps.
There you go. it helps to have somebody who has the amp give first hand. I did not know there was a USB direct out on that amp, and it could be its own DAI. That is pretty cool.
Thanks @JerryP. I will use this for future reference if I ever am looking for a small combo amp.
I mean if I were to upgrade my DAI, and at the same time want to upgrade my smallest practice amp, getting an amp with direct out via USB is awesome.
One last question. I would guess, but have to ask, is the USB clean sound, directly from the bass, pre any FX or EQ from the Pre-amp? or does it go thru all that and then go out having been colored by all that?
Or is there a PRE / POST setting on the USB out?
That's awesome @JerryP, I never realized the LT25 also acted as a DAI

The LT 25 has a variety of Fender Amp sims along with a host of pedals so you can mix and match to your heart's content. It has about 100 factory presets that you can play with. Here's a couple of examples: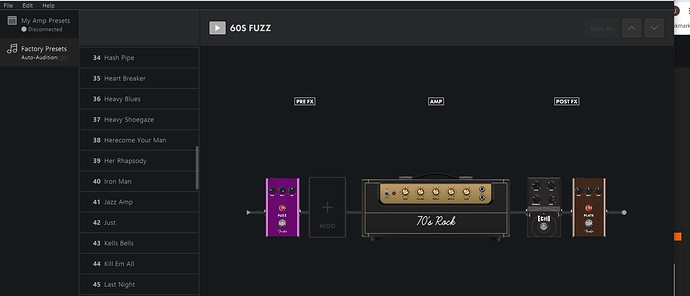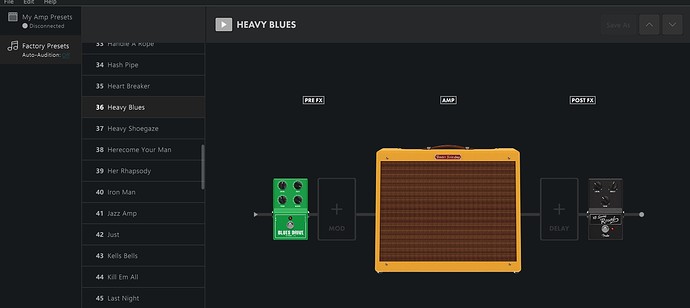 What ever the amp is set to, is what is sent to the computer.
I didn't know that either. Now I have GAS for an LT25 (or even a Studio 40 maybe?)
The feature is cool, but the bummer is you will outgrow those amps, and then lose your amp and cab models, and DAI

This is one of those things that I think would be cool to have on an amp, but would never want to depend on, because it was tied to a specific amp.
As someone who plays at home for their own enjoyment, I wonder if I will ever outgrow a 40 Watt amp… But it's a good point; I'll definitely keep it in mind

@howard is right. I feel I have outgrown this amp, not that I will get rid off it, I just see a Rumble 100 in my future.
Y'all are wild, I did not realize this community was so active, but It's super reassuring to know that everyone is here and SO FREAKING READY to answer questions. It may have brought a tiny tear to my eye, not even gonna lie! Haha, but yea thanks for the info. I think it's really cool that you can record right from the amp, but a bummer that you can't add all those other cool pedals n whatnot. BUT I am a beginner so I best not be getting ahead of myself n all that. The effects and modeling within the Fendertone should be enough to keep me happy for… dare I say years?
Not sure I understand the statement. You can mix and match amp sims, pedals, adjust volume, gain, EQ etc. If I was home I could show you all the different combinations you can come up with. Unfortunately, I'm on the road and my amp is home.

Ah oh no. Not the simulated pedals, I mean like a physical preamp pedal or DI. Granted, the LT25 has a FTSW jack which I'm assuming is for some sort of pedal…
For some reason, physical pedals seem "better" to me as a bright-eyed beginner who wants to waste money unnecessarily. Like I don't even know what a darkglass pedal does, BUT I WANT IT (it just sounds cool). and tubes?? what even are those… Like could you simulate those pedals even? Surely there's a way…
I'll reiterate though, I know next to nothing about amp modeling, err chaining effects. At best I only have a few hours in the day to really indulge in learning


All my knowledge is from at most a few days of watching youtube videos high on my couch.
I also PROBABLY have a fundamental misunderstanding of what a DI and a Preamp is/does but…