Thanks to an inquiry from @eric.kiser, we've added a plugin to the forum that allows you to follow other users, list the latest topics involving them and receive notifications when they post.
How To Follow Somebody
It's really really easy - just click on their name in a thread, and this will pop up: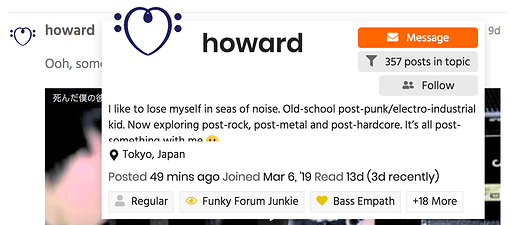 Click the "Follow" button, and voilà, you'll get notifications when they post. You can also use the "Follow" button on someone's profile page.
How to See Who You're Following / Who's Following You
Just head to your profile and click the Network tab, and you'll see who you follow, and who's following you:


The notifications you get will look like this:

Enjoy! Let me know in this thread if you have any questions/issues with this new feature.