Transpac shipping is indeed slower and more dificult now.
@TNKA36 Ah, brought the big vehicle for this trip

We've been in what's effectively a lockdown for about five months now, and we're just getting out of it.
We had something like 6-7 months at one point and were just getting out of it.
With the exception of family not being able to visit and no hospital appointments other than Telehealth I can't honestly say that it effects my everyday life. I'm not the most social of people in real life @Mike_NL

That's a lie Mac @REPA ,




you are a social junkie,
I think I will have to call in for a cuppa in the next couple of weeks
Cheers Brian
here in France, we just very recently finished the 3rd lockdown.
Look forward to it @TNKA36 . Might even get some Tim-Tams in

I'm thinking lockdowns are something we may all have to get used to @terb . I'm not sure if they are the answer sometimes but I'm liking the quiet as the traffic dies down etc
Pandemic ugly horribleness has changed me into a serious homebody. I used to run around everywhere all the time. I'm much happier at home, enjoying the family (saxes and basses) and the other family too
. Enjoying the plants I. The yard, the home we've made etc. Have had a ton of quality time with my 10 and 13 year old daughters which is great as they are just in the verge of ignoring me until the snap back out of the teens sometime during college.
Last weekend we had to force ourselves to go take a road trip. Enjoyed it a lot but liked coming home best. I'm ok being home. I do miss the "normalcy" of life in general and hope it comes back (I think it's still a year+ out worldwide before we stop having to think about covid).
lockdowns are ridiculous here. not saying that there is no sense at all doing lockdowns, just that it's stupid to consider that a lockdown has to be global to a country, it's like refusing to see that every zone is not the same.
just to give an idea, here is where I live (random picture I shot this afternoon during a bike ride) :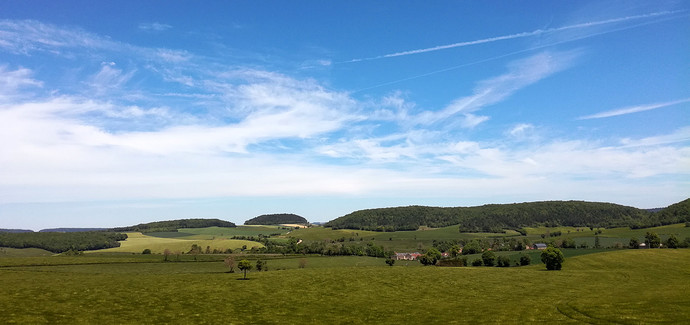 lockdown or not, what would it change ? there is nobody …
the situation is probably hard (impossible really) to manage, but anyway, stupid rules are hard to accept and follow.
I am right there with you.
I am basically on lock down due to my health and financial restrictions anyway, so when I do go out, it is nicer to go out to zero traffic and little to no lines at the store.
I am glad the world is going back to normal, but there was plenty about the lockdown (if you can call it that, here in Southern California, Orange County in particular) that I enjoyed.
Cuppa is Australian for ?
if I had to guess, cup of (coffee, tea, beer?)
Tim-Tams, sounds like a street name for a designer drug, OR kids on the schoolyard talking
What are you really saying, in, non star wars jargon.
Yeah, or even after college. I have 3 girls in this phase.
Your intuition is right Toby @T_dub ,
A cuppa is a tea or coffee.
Tim tams are chocolate coated biscuits, and Mac @REPA had better have them when I call in​:joy:

or we might have to take the Hog out for a run to get some​:+1:
Cheers Brian
Fair enough.
Thanks for the Oz Talk lesson.
The salted caramel ones are SO addictive
Totally. I love them all. You can get them here and it is tempting whenever I see them.
Sorry to hear about the Melbourne lock down, look after yourself and it gives you time to practice
Sorry to hear that…looking for Japan to do the same thing once they finally decide on the olympics
The weird thing is the real reason there has never been a lockdown here is that the Government does not have the constitutional power to do so. It's unfortunate because given the rates, Japan could likely have completely controlled it if they had had the ability to do it.
Instead, the SOE is this halfassed thing, where stuff is still open, and a minority of dumb/fatigued/whatever people keep doing gatherings or going to hostess clubs or whatever and the thing just keeps spreading along on slow burn, forever.
on base we have <6 for over a month as most of Japan is off limits in some way shape or form. That being said this weekend was a 4 day holiday and everyone and their brother was out and about but 80% of the adult population is vaxed so we'll see what happens