When you are trying to learn a new song or come up with a riff I guess the best place to be is the most comfortable one like your chair at home in front of your best gear…
Recently I have picked up this research of simply improvising… well everywhere else but home!
I am very used to improvising movement while getting inspired by my current ambient and I noticed that my playing changes a lot as well if I do it outside.
Improvising is just fun as itself but I get motivated 10 times more if I can record it and share later on…
It would look something like this…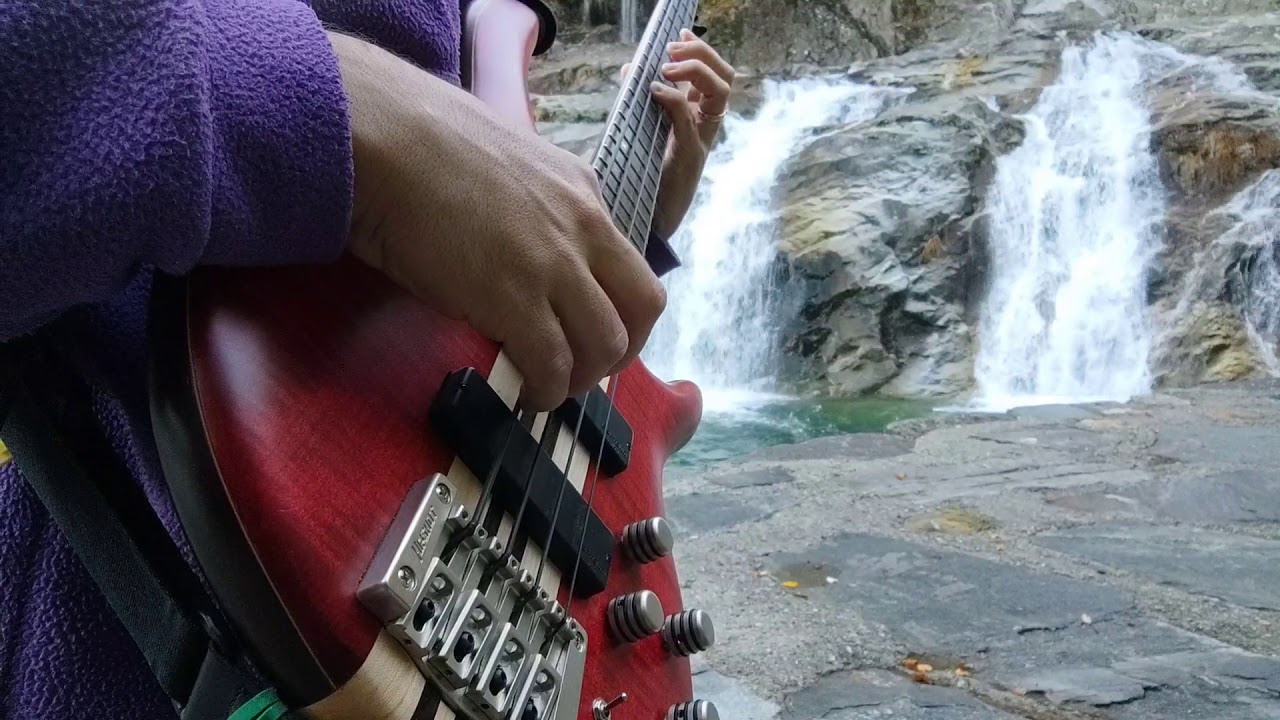 My setup from that day looked like this on the other hand.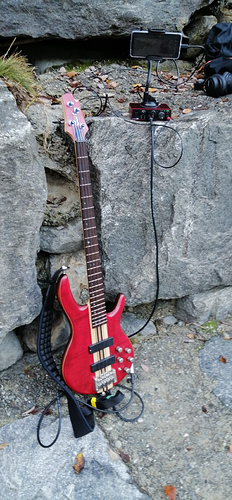 Bass + Focusrite Scarlett Solo + USB-C cable + Headphones
So I wanted to share the minimum gear to this and what I am working with at the moment… Hoping that people can share their feedback for better/easier ways or simply get inspired to give it a try!
Minimum gear:
Your bass (duh)
Headphone amplifier ( Mine is Vox Amplug Bass)
Your phone with audio/mic jack
Audio Microphone splitter and adapter for two headphones. Something like these here
Description. You would:
1-Connect the headphone amp to your bass
2-Plug the 2xaudio splitter to the output of the amp. One goes to your phone other goes to headphones.
3-Use the audio/mic splitter to connect to the phone.
It is the lightest setup that I can think of. Also has benefits of the local rythmbox and aux input of the Vox Amplug unit. I don't like the so many splitter cables part though…
Better gear :
Your bass (I never leave home without mine)
Your phone
USB Digital Audio Interface with correct connection cable to your phone, headphone output (preferably with direct monitor) and at least one input jack for your bass
< For many current DAI and Phones connection is a USB-C to USB-C cable
< Or simply you can have the same cable of your DAI that you connect to PC and add something like this to the end: EXAMPLE:ANDROID with MICRO USB OTG ADAPTER It goes on the phone side.
< This only works if your phone/tablet can give enough power to the DAI if not you might need an adapter like this to supply
Description:
Connect the DAI to the phone
Connect the bass to the DAI
Connect headphones to the DAI
You will notice that the sound is recorded only on one channel (left or right) if you don't have proper software.
My best Gear so far
My Bass (Seriously you should invest into a gig bag by now)
DAI with 2 inputs

Scarlet Solo could also do this but I updated to MOTU M2 because of separate headphone volume knob) otherwise you need to record first to make a sound check and then don't touch the volume/gain knob again. Scarlet 2i2 is also fine or Presonus Audiobox if you have that. Anything bigger would bring in power consumption issues.

An XLR Microphone (I prefer Mics that don't need phantom power so they do not consume my phone dead)
Zoom B1 Four before the DAI for some tone shaping looping or rythm box.
Description:
Same as the previous setup but we are adding the Mic to include the ambient sound to the recording and Zoom B1 Four (or your other favorite pedals).
My dream setup would be:
My bass (maybe even two… surprise me)
DAI
Microphone
A good camera with audio in (I would love the Go Pro)
Phone for recording the sound separately in a good app like (USB Audio Recorder Pro or whatever I-Phone boyz are using these days.)
Desired Pedals
Wireless rig so that I can move around while playing.
Friends to do this together (cries in the upcoming lockdown limitations to Italy)
Description
In this setup the video quality would be off the roof and you could simply wear the camera if it was a go-pro like thing. If you are fine with audio in quality from headphone jack to the camera you already have your video there… Otherwise you would have to edit the video to add the recording later.
What I love about doing this with my phone instead of a PC is that the video quality is usually much superior and there are a ton of free apps to edit videos. My limitation with android phone however is the missing of good apps like garage band.
I could have the go-pro or any other action camera simply with the Vox Amplug and play walking around like that… Same wouldn't be impossible with all the gear in my backpack lol…
I would love to hear if anyone else managed to record with android devices. The USB Audio Recorder Pro works great for only sound but when I record video it records microphone on one side and bass on the other so I have to convert the video to mono by hand later.
Sorry for the long post, hope you enjoyed it, learned something new and inspired by it!