There's something I'm missing here and the problem is I'm not even sure what question to ask so I'm just going to brain dump a bit and hopefully someone can get an idea of what I'm having trouble comprehending.
So I've got the basic scales shapes pretty well down…at least the more common ones (major, minor, pentatonic and blues minor pentatonic) and can play them all over the board.
Side note, I'm going to use C major, for the purposes of this mind dump.
So yeah, A string 3rd fret, A string 5th, D2, D3, D5, G2, G4, G5. Basic ionian/major scale. Move that same shape anywhere and it works. I see people playing more than that shape, however. What about the scale notes on the E or B strings? I've got a book with bass scales and it has a bunch of diagrams and something is keeping my brain from putting it together. Like I said, I'm not sure what I don't understand about them.
An example of the major scale from the book, which is similar to other diagrams that I've seen: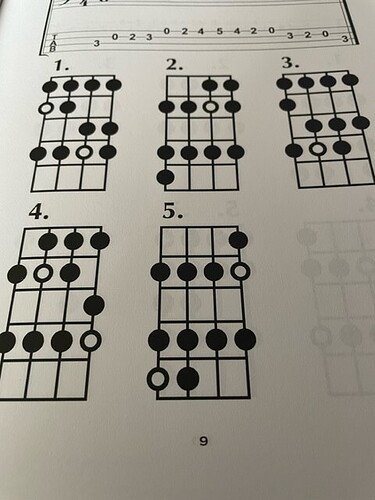 As I'm brain dumping this "on paper", so to speak, I think I'm formulating the question.
The white dots are the root notes. I get that. I think the problem I'm having is with how to practice these different positions in some kind of cohesive way.