So, this came from Amazon today.
Having fun with it.
I know 95% of 3 of the songs, but I want to learn them complete, plus I would like to learn more of these anyway.
This was a GREAT Bass album.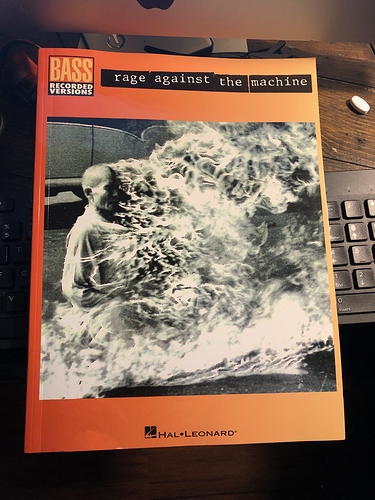 I used to cover Bombtrack and Killing in the name of with the band me and my Buddys had back in the early 90"s.
The bass line to those follows the guitar line pretty close, so learning them on bass was pretty easy, as far as being able to play the notes.
They were lines I was playing on bass in GC, prior to getting a bass, when I was testing them out. Of course, technique was horrible back then, and, although it is not anywhere near where I want it to be, it is 20X better now then it was.
It is good to be able to look back and see progress, this is a good measure for that, thinking about how horribly I was noodling them in GC in Hollywood, trying to decide if I wanted to play music again, and if I wanted to get a bass instead of guitar.
From that trip, I took one more trip to the GC in Fountain Valley, by where I live, and figured out what the cheaper basses were, and how much they went for, so I could look on Craigs List and know what prices were. I learned about the Ibanez GSR200, that it lists for $199, and at the time it was 15% off. So when I found a post for one, with a practice sized amp for $150 on CL, I offered the guy $130, he took it, the rest is history.
So, what I am getting at, is this book is significant to where I am today. Had I not remembered these songs, the guitar line, I may not have had the balls to pick up a bass when I was in GC with some friends that were picking up some drum sticks and strings, etc…
It was in my cart for a long time, since about the time I got that Ibanez, and that was about 2 months before Covid Lockdown, so February probably. here I am about 7 months later…