This is a Fender headstock/ string angle design thing. They sell an aftermarket retainer you can install with zero mod, I'd you don't want to keep pushing it down. You can also fix this with a fret wrap above the nut.
No need to replace the nut. It's not the issue.
Fender 0078972049 STEALTH STRING RETAINER BASS https://a.co/d/4xzOr8h
I've no hootenanny button @Al1885

I'll grab some naphtha while I'm in the hardware store @eric.kiser . Thank you
Cool. Thank you @John_E . I've got an aftermarket retainer in a draw somewhere that grabs all but the E string so I may use that. Although yours looks a lot better
I have one on my CS '61 P!
Now I know what it's called
Ended up buying one of the Fender stealth string retainers @John_E . Better option than drilling holes
Real men varnish their

fingerboard with

syrup

EDIT: and rub their strings down with

Mmmmmmmm bacon

Usually you can tell if it's dirty by looking at the frets. My Warwick frets were brown and after cleaning gold.
Think your fretboard is just vintage. Don't go gung ho over it either. I personally dig the look of a brownish maple neck.
That is correct. Dunlop lemon oil product info even mentions specifically not to use it on (lacquered) maple fretboards. @Mac, I can recommend MusicNomad MN105 F-One fretboard cleaner & conditioner, which doesn't contain any lemon oil and is safe to use on maple fretboards.
If it is lacquered I bet a little light detergent in water on a rag would work fine. Maybe just water if you're nervous.
Unfinished, absolutely do not use water.
Thank you @howard and @Mike_NL for clearing that up for me. Disaster averted!
I'm leaning toward just giving the neck a quick clean and enjoying the patina @Paul . I do actually like it too
1000%
I'd carefully clean the frets, maybe. That's it.
You bought a vintage bass, so why would you want it to look like a new one.
I'd be surprised if there was much lacquer left in it, which means your treating raw maple (or raw dirt). Oils condition the wood Vs cleaning it per se. Can't condition dirt. I'd leave it be.
Gunky fretboard would squick me out. I'd clean it. But that's just me.
The fretboard doesn't affect the playability at all ( I'm still playing as badly as normal

) and I do like look of it the more I play it.
The neck does need a little tidying as the odd bits of ploy are a little weird to the touch so I grabbed some tru-oil from a really cool gun store I discovered today and some 800 grit sand paper as @Al1885 suggested.
And I'm loving it
Except for the poly neck feel that you should take care of and personally frets polishing I would not touch anything else. When it comes to Fender aged, patina, beat up equal more $$$.
Speaking of which can you show us more pictures front and back? This will be very educational for most of us and if you ever take your neck off be sure to take the pictures of the stamps and date,. On the neck and neck pockets. It would be a great reference and future research for others.
As you may have remembered I scored a 2001 reissue 75 MIA jazz neck brand new( not lightly used) condition. While that is a unique conversation starter on it one but it's nothing compares to an aged well preserved Fender neck.
Best quick and easy tool for fret polishing is this. I have quite a few, some are really awesome but nothing is as convenient.
https://www.stewmac.com/luthier-tools-and-supplies/supplies/sanding-and-polishing/sandpaper-and-finishing-papers/micro-mesh-touch-up-stick/
Here's my '01 reissued '75 Jazz with '76 body with thanks to @John_E recommendation Fralin's pickup and '62 control plate setup. It's 2 of Fender iconic features on Jazz bass year.

I definitely won't be @Al1885
Oh except for adding one of those stealth string retainers @John_E pointed me in the right direction of yesterday.
I'll certainly take some new pictures of the old girl once I've returned from fencing ( again-7kms wire strung, another 3 to go!)
But here's the pics from the ad for now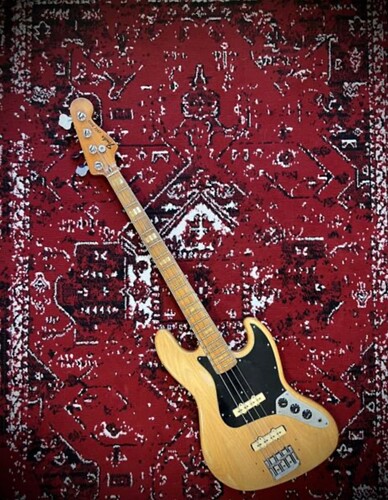 Your bass is an absolute beauty!
I've got some of that @Ruknrole ! Used it on the floorboards in the house before we finished them
Yeah basically you just need to determine if it is lacquered (or still has lacquer remaiing), or unfinished.
I've even heard of people using windex on lacquer

I used furniture polish on the varnished maple of the Fury. Worked like a charm. Yay lemon Pledge!