What a transformation @terb she is stunning.
Jamie
After looking at this I think I like your sticker better than Schalltechnik's decal design. Is that their enclosure or did you make it too?
Looking at the instructions it looks like it is all through-drilled and not SMT. Nice.
If this ends up with some nice tone color it's definitely a tempting kit.
they give a template for the drill size and placement, I used this to make the enclosure. the sticker is a modified version of Schalltechnik's one. If you want I'd be happy to give you the file

Thanks! If I built one I would definitely want it

Took a look at the instructions, my skills would definitely be fine for the electronics part but I have no real way to make the enclosure myself. I'd need to order one folded and drilled, or go with a plastic one of roughly the right size. I've made sheet metal enclosures in the past but I don't have the tools needed here, or access to them.
Really looking forward to hearing how this sounds.
Oh hey they sell an enclosure with the deluxe kit. That's perfect. Wonder if it is pre-drilled.
Ooh. This is a terrible, terrible style to use for a demo of a G-K but it sounds promising even with this noodling:
Ok here we go:
yup sounds like a G-K. Killer.
By the way their VMT kit sounds awesome too:
I think that one might need SMT soldering though so it would be beyond me.
edit: Ahh yeah, there's two SMD JFET's in it. So not only needs SMT skills but you can actually heat-destroy them accidentally with bad soldering too.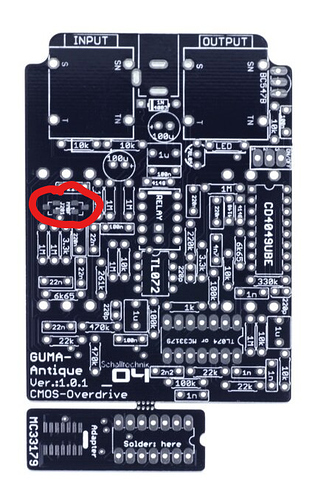 they sell the two versions : drilled or not. in your case you'll just have to order the drilled version and that's it

yeah I plan to order it after I finish the GK
yeah, not a big issue for me, I already had to deal with SMD electronics. if you take your time it's not impossible.
Oh cool, I missed the drilled option on the basic kit. The deluxe kit doesn't seem to have a drilled option.
This is a super tempting preamp. Looking forward to hearing how yours sounds. Could be a fun project after I finish this tube preamp rabbit hole I am going down. I love the G-K sound.
I ended up taking the chance and ordering the Guma Antique kit (they just got it back in stock). Looks relatively straightforward as the ICs are socketed. I should probably line up a local source of cheap replacement SMD J201s though

Actually, thinking ahead, I just ordered four extra JFETs, because I am certain to destroy at least one. They are cheap so why not.
so cool @howard ! I can't wait to read your review about this kit ! as you know I plan to buy and build it too

by the way I love the J201, those JFETs sounds and behave really close to a 12AX7. that's the JFET I used to design and build a preamp to mod a vintage Traynor reverb unit for one of my best friends … a video with me doing a little bit of guitar noodling (3.5 years ago) to show this modded reverb :
Now my friend, who used to be the guitar player of my last band (post-rock / psychedelic stoner) moved to another continent, he sold almost all his gear and kept only one guitar and this reverb unit

Great story and video! Awesome that he saved the thing you made him. That reverb sounds great. So does the telecaster of course

Apparently the TO-92 J201's are getting super rare, like $4 each now. And the Dirty Little Secret clone kit I posted in the "Post your pedal ideas" topic uses five

The SMD ones were only 35 cents each though.
wow, I might be rich because I think I have a ton of them …
yeah, honestly the modded Traynor reverb unit sounds insane. and yeah the Fender Telecaster Cabronita is a little gem.
…
and you forgot the VAC Hayseed 30, a boutique amp (based on the Vox AC30/4 and the 1963 AC30/6 Top Boost JMI) … that I modded …

Apparently they are obsoleted in favor of the newer SMD mounted ones and other TO-92 package transistors have replaced them. There's also lots of places selling tiny SMD to TO-92 adapter PCBs.
This is funny for me because the only transistors I have ever used were the packages like TO-3, TO-18, TO-92, etc. I guess some packages are redundant with SMD now.
I clearly have a lot of catching up to do

I found a few people discussing this on various DIY forums.