Does everyone rest their right forearm on the body of the bass guitar when plucking?
I can't see what other option you would have. Same with my guitars, Ukuleles and Banjo.
I don't. It moves up and down with my plucking hand.
Left-handed players don't either
I would say it is not my forearm that is resting on the body of my bass, but just above my wrist sits there. I play a P-Bass and I think it is chamfered intentionally for this purpose. When I anchor my plunking hand on the top of the pickup is almost naturally goes there.
@hmet33 I'm curious what are you concerned about. Are you worried about the finish of your bass?
I'm a lefty and @Mike_NL is correct my right arm does not rest there… it is my left.
On my streams the forearm rests across the top of the bass and it's very comfortable.
On more traditional shaped bodies my arm is almost straight when picking, and my hand is by the bridge for palm muting purposes. When plucking my thumb sits on the pickup lightly or string and my arm doesn't rest on the bass at all.
I think it depends a bit on how low you sling your bass. If you play low, with a straight arm (finger plucking like Steve Harris or with a pick, like Shavo Odadjan) you will tend to only gently rest against the bass if at all. If you play high up against your chest, like Wojtek Pilichowski or Marcus Miller, your arm will likely rest solidly up against the bass. YMMV
I often do, but I get better tone if I lift my arm up and out so my wrist isn't as bent.
I do, why not? its very stylish, lol. I look like a one arm T-Rex when I play bass
Which is known as the forearm.
I think the bass can make a difference too. My Charvel, the bridge is at the very end of the body. To effectively palm mute, I had to adopt a straighter arn
I would say that it's the inside of the wrist directly above the palm? I find keeping the wrist straight helps me. I dunno About anyone else, but I'm definitely faster and more accurate that way.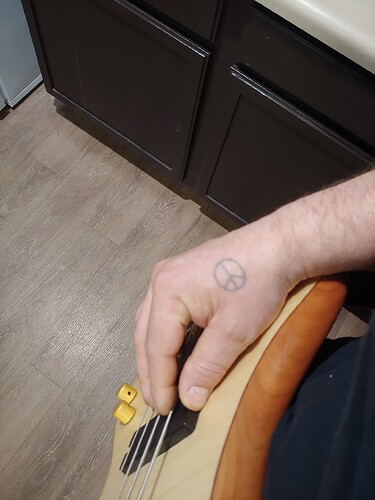 I've never found my forearm being off the body of the bass. This goes for all of mine from my daily player to the kit built i did.
Maybe this relates to the idea of keeping the thumb anchored? I know I'm starting to get shiny spots on the top the body and the pickup.
I haven't even thought about it. Will have to go see.
My forearm gently rests on the edge of the body but moves up and down as I pluck. The movement is because I play with the floating thumb technique.
In general, the lower the bass is worn, the straighter a player's wrist will be when plucking.
The rule of thumb (no pun intended) of wearing the bass so it is in the same position relative to the body, whether the player is sitting or standing, makes good sense, but there is definitely wiggle room there when considering the most efficient and comfortable wrist-straightness while playing.
For example, when I first set the length of my strap, I wore the bass higher to very comfortably accommodate sitting. But that didn't work well with my arm placement as my wrist was bent like crazy when I plucked.
I have since lengthened my strap over time until I felt much more comfortable when plucking, because my wrist is straighter. Not completely straight, because that would require my wearing the bass much lower than I now do.
As it is currently, I can play sitting down, but I hold my bass like a classical guitar player holds a guitar: with the instrument between my legs and centered with my body. Mark Smith recommends this position because it most closely simulates playing while standing.
I can also sit and play with my bass hanging over my right leg, like Josh does, but my bass is barely hovering just above my thigh as it hangs on my strap. I guess it's the best compromise I can hope for.
Torso length is very varied and absolutely relative to every person. For example, Josh is crazy long and tall and his limbs and digits reflect that: arms, torso, fingers. Mark Smith is of a more average guy height of 5'10", but even he has an arm wingspan of over six feet! More diminutive famous bass players wear their instruments wherever they feel most comfortable while thumping. The point is: each of us needs to find the strap length/bass hang-height, playing arm placement, and wrist benditude that works best for us as individuals.
The struggle is real.
Yes, the struggle is real. I sling my bass very low when I play because it's the most comfortable for me. I have a very difficult time playing while seated, because I seem to have a short torso, and my thighs push the bass up very high (almost touching my chin), making it awkward for me to pluck and fret.
I guess I'm the traditionalist here? I'm fully with the bass above the waist plan. when sitting and converting to standing while playing, the bass stays static. I wouldn't recommend it for everyone, on account everyone is different- but it's what works best for me. And really, in the end that's what this is about. being comfortable, accurate and happy. If it's gonna by a drag, I'm not going to WANT to do it-and That's an issue. It shouldn't become a chore.
Picturing Pam going Full Hooky here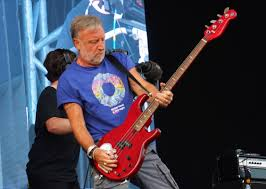 Lol, That's pretty much where I sling mine, but I don't come close to playing like Hooky.