Nice case @PR_9207 - I'll know who to contact if I ever have to get rid of a body
haha, but in a respectful way
Not all my cases and gig bags, but at least my favorites.
This one is a Tobago bass gig bag that I've used a lot with Greenie. It fits most basses, except the Grabber and the hollow Ibanez :
This one is a Thomann gig bag especially shaped for larger (wider) basses, like the Grabber :
This one is a Gator molded case that I can use with all normal-sized basses, I had it when I bought Greenie (which was white at the time). It's really heavy duty, I use it when I have to travel with Greenie :
This one is a Fender gig bag, I used it a lot with Juliette. It's a very good compromise between the padding and compactness :
This one is a 1980's Fender molded hard case, perfectly fitted for the Telecaster and Stratocaster guitars. I use it when I travel with Juliette :
This one is a Yamaha gig bag, really excellent quality. The padding and comfort are impressive :
This one is a hard case that I had with my LTD, in bad shape. I had to rebuilt several parts. It's a compact and lightweight hard case that fits most guitars, and still gives a very good protection. It has become my go-to hard case, especially when I move a guitar between my house and my girlsfriend's place, which happen often :
Beautiful case, @PR_9207 . But it begs a question, does your Wife's keyoard get up at night and fly through imprudently open windows to attack unwary travelers?
I'm not allowed to talk about it.

Forgive me if I missed it somewhere above, but do any of you happen to own the 32" Squire Classic Vibe Jaguar? I've got one coming this weekend (NBD!) without a bag or case. I guess I can just drag it around to the three or four local music stores, but if someone has a recommendation… There's a used (standard sized, afaik) case on FB marketplace for $50, but I don't know if the Jag fits a standard or if it needs something special. (I'm guessing with a 32" scale length and the offset body, it's got to be just about the same — minus two inches? — as a standard jazz bass. Am I right?)
That Road Runner is nice! Pretty expensive but really nice. I love the organization pockets.
I always watch for a discount. I paid $50 for it
I have the Gator Transit bag and the Fender FB620 bag. If you're considering buying one of these, I'd definitely recommend choosing the Fender bag.
The straps on the Transit are attached low on the bag, causing the instrument to sit higher on your back. This makes walking through doors troublesome.
The Fender bag's straps are mounted higher up, so the bass sits lower. It also has extra padding which makes walking with the bag much more comfortable. It also has a more useful pocket than the Transit bag, and is half the price.
It appears any will work.
If you are ever in doubt, put one in your cart at Sweetwater and options for cases they know will fit will come up. If you call them they can also help.
@AlexM what's your opinion on the storage pocket on that Fender bag? Online reviews often mention it being quite small, and it also seems to be shaped a bit oddly.
@thebanjoplayer the Fender FBSS610 is intended for short scale basses specifically. I'm sure other manufacturers offer similar options.
I had one of these for my medium scale Affinity Jaguar H, and the pocket in front was tight, not very big at all.
But it protected the bass and not a lot of options in that medium scale size.
It won't hold a full-size music book due to its bullet shape, but it's big enough to hold cables, spare strings, tools, and other accessories.
I actually have the FBSS610 short-scale bag too. It doesn't have the rubber protectors at the bottom, nor the comfortable back and handle that the FB620 has. It's only okay, whereas the FB620 is outstanding IMO.
I ordered my Ibanez miKro bass and the gig bag made for it at the same time during a sale at Guitar Center. Got the gig bag quickly, as it was in stock. The bass took several months to arrive (not in stock at the time). Stock photos: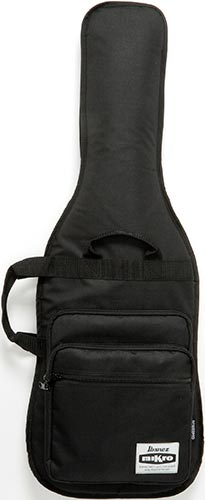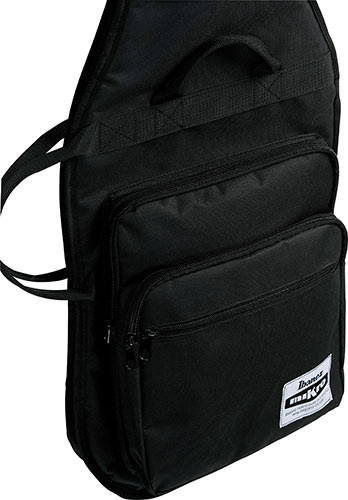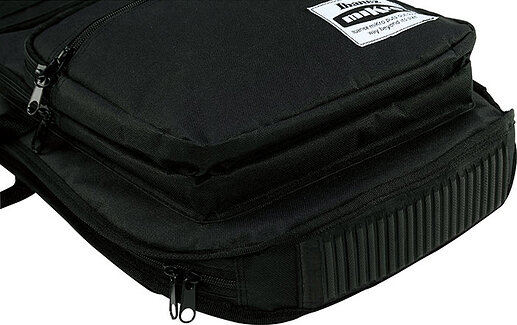 Now, I have not used it yet, other than to store items in the pockets. But it seems like a good bag to me, keeping in mind it's the only one I've ever had. As you can see from the photos, it has:
one handle each on the side and top
padded backpack straps
an externally rubberized and internally padded bottom
three pockets; the largest can fit at least one typical 8.5" x 11" music book, depending upon thickness, maybe more.
The padding on front and back is not very thick, but it is a gig bag so I guess they are like that. It fits the miKro bass snugly with these items in it: a Korg tuner, Vox Amplug for Bass, and some cleaning supplies (still in boxes) in the other pockets, with room for more stuff like cables and even probably a pedal or two (I don't own any pedals).
This is slightly off-topic here, but does anyone know if there are gigbags with a larger additional storage space beyond a book, cables, or pedals?
The last one, the Ibanez, is kind of close, but still larger/deeper pockets possibly. It's often quite difficult to judge from the pictures, too
More like a combo gigbag-backpack

You could get a double bag and use the other side for stuff, lunch, cocktail,etc
Not sure what you're looking to store, but this Roadrunner bag I use has a storage section that is the size of the bag. You can fit a lot of stuff in it