Sorry - no basketball here

It is about time the six-stringers get a thread going! To start off with, let's get an overview of who in here owns a six, maybe even plays one (haha), what type it is, what you like about it, what you don't like about it, what you are currently doing with it, and what you hope to do with it in the future!
I can kick it off:
I own a Harley Benton BZ6000NT ("affordable" at around 350 Euro), weighs a metric ton, has an 18 V preamp that packs a punch, plays super-nice, some of the hardware (tuners, pots, …) could be upgraded at some point, but no biggie… Tuned B-E-A-D-G-C, with 17 mm string spacing at the bridge, around 10 mm at the nut.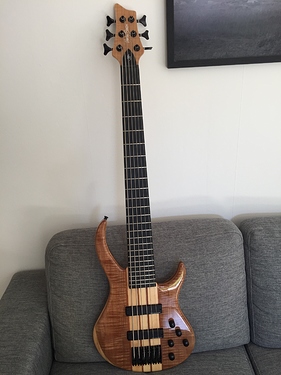 I currently mainly "noodle" on it - trying to get a feel for the six strings and playing some scales and arpeggios over a wider range.
What I want to use it for: learning to play chords on a bass and learning to play melodies and solos making use of the extended upper range.
More long term: because of the range on this bass, this could be a good instrument to have some looping fun.
Any other sixers out there??