I'm going to swap P pups.
Which soldering equipment do you use and/or recommend?
Any 40 watt soldering iron will do.
It's been a long time since I did any soldering. I don't want to buy a piece of junk that could end up being a waste of time. The right tool for the right job.
My research points to a Weller 40- or 70-watt solder station as a good solution.
Just looking for recos of what those here who do their own bass wiring work have found to be efficient and reliable.
Used my Weller 40 for the past few years. Inexpensive and it works. So far so good. They have pretty solid reviews.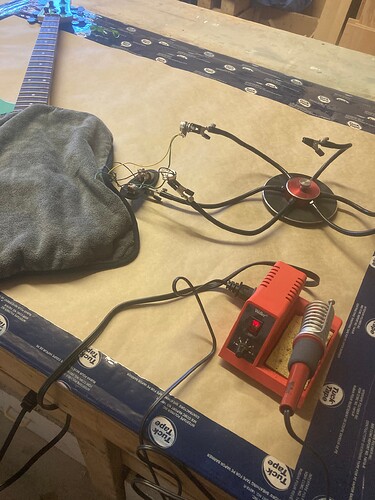 This one worked great for me. The job is easier if u buy the 60/40 rosen solder wire cuz it melts easier imo.
Cool. That's one I'm looking at seriously.
This a great resource to get you started if you've not done much soldering. It's a good channel for learning about working on your own instruments.
I have this one. I was going to go for the weller, but I cheaped out. This one works really well.
Thanks for the link. I ran across this but got sidetracked and didn't watch it before.
This is valuable best practices refresher info.

This is what I use…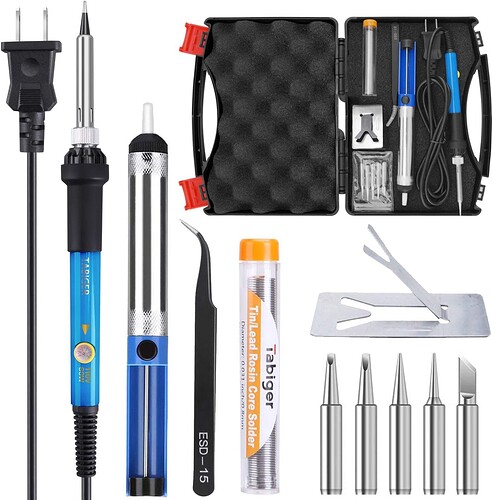 https://www.amazon.com/Tabiger-Soldering-110V-Adjustable-Temperature-Welding/dp/B01H1IFT54
Cheap and effective. I've build over 50 instruments with it so far and it's still going strong.
Ironically the hotter/better heat transfer you can get out of the iron the better. If it takes forever to melt the solder or get it to stick, it's going to heat up the parts more and risk damaging them. I can't remember what our comms guys used in the military, but military grade and milspec mean nothing anymore really
yes - i have the same one, as recommended by lobster. works well.
If you only need to do pickups swap once in a while any would do. If you are doing more electronics upgrade I prefer something like this. I like to shrink the sleeves for better security. At one point I was doing a few guitars per week, this has served me well.
https://www.amazon.com/dp/B07S4GPM66?ref_=cm_sw_r_ud_dp_2BEKN2PHSNSGAKWSR7A3
YIHUA 853D 2A USB SMD Hot Air Rework Soldering Iron Station, DC Power Supply 0-15V 0-2A with 5V USB Charging Port and 35 Volt DC Voltage Test Meter
Yeah seriously don't discount the inexpensive Chinese soldering stations. I had one too (a Yihua IIRC), it cost very little and it worked better than my current Hakko iron, which cost more just for the iron.
If I were buying right now, I'd use Hakko or Weller as the benchmark for price/performance/quality - and seriously consider the rando Chinese products that come in cheaper in the same range. Chinese soldering stations are fine in my experience.
Slow heating isn't really a problem, but heat retention (keeping the iron hot while working) is. All of these should be fine for that.
From what I've read, the Chinese clone of the Weller 40-watt has no problem retaining heat. It just gets there faster when fired up.
I'm not planning on doing a ton of soldering. I just just want to avoid paying a tech, and saving a couple of weeks time, to do a pup swap on my P5.
Still, I don't want to blow the same amount of bread on a one-off soldering solution.
That Weller knock off is probably fine. I'm guessing Weller makes their stuff in China as well?
Anyway the Weller is on sale for $45
Do the math on how much your guitar tech would charge you per pickup swap and it's a no brainer.
Plus if you're a hobbyist like me. I expect that Weller to outlive me and you.
I just realized the one I had that was fine was an Aoyue.
That one will probably be fine. If you want to get technical you can look a little deeper and try to make sure its tips are of a standard size (so you can interchange Hakko or Weller tips), and nicer ones will have a temperature control/readout (versus a wattage dial). But that one should get the job done.
Oh, one tip: ignore that the iron comes with stuff like solder. You probably won't be using that and will want to order your own after deciding which type you want.