Mine is just a lonely bass waiting to get played.
I stole mine from Kurosawa Gakki. They use it for the web page for their bass annex.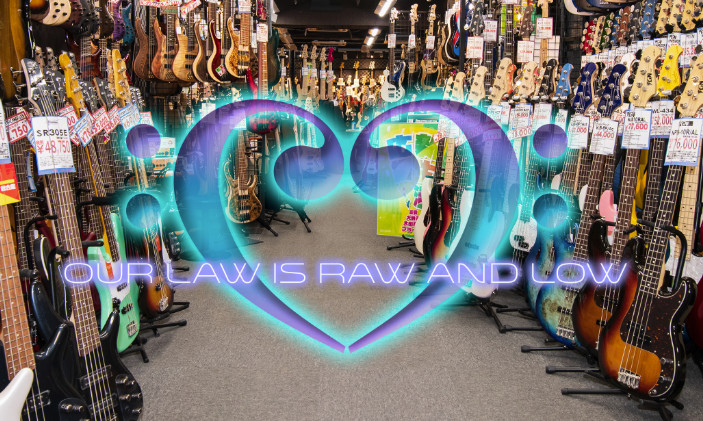 It's my favorite music store.
Your logo is pretty much invisible in the recently introduced dark mode… You might want to change its background from transparent to white.
I have always admired your style, @Korrigan . . .

Well…it's me. xD
Was in the process of moving stuff out of a barn for a friend into storage. I'm a big Miami Hurricanes football fan, and was wearing a homemade 'turnover chain'.
I just added mine for this post!! It is the shifter knob from a bread truck I used to own. I will try and come up with a more music related picture when I get a chance.
Just created one. Random picture of my bass till i sort out a proper one
Mine was designed for me by my bandmate for our band. Original we started out with three: remco, hans, paul. Paul came up with the name using our first and last letters. Hans then designed the logo when I mentioned I wanted to try to 'folkrock' some scottish traditionals. When Paul had to stop due to illness, Hans and I just kept the name and logo, so I still use it for my music.
I have that shifter knob in my office I had it on a forester and then on a legacy but the truck I'm driving now is automatic and wont let me put it on. So it just sits on my desk taunting me to get out of second gear.
Mine went with the truck… I should have switched it out before selling it. I also had the same skull on the 4 valve stems on the tires.
Hello All,
My profile pix comes from the early logo from my practice, Healing Options West. I designed this with a hand /ear combination and this was the first style I used for years.
I basically started with an ear shape and that spiraled itself into the print of a foot. The logo I use now on my biz cards, office,etc incorporated a hand and passed on the original bear paw print. Thats a whole other thread / topic there.
However, I still dig this original, just came up on my rolling screen saver about a week ago, its now my profile photo here on BassBuzz. So Thats That
Be Well,
Cheers
My profile pic is my 36 Ford pickup, it had been parked in a friends shed for the last 7 years, i finally got it home ,washed it and took the photo, and thought i would update my profile pic with something that i haven't seen or driven in a long time.
Cheers Brian
Full disclosure: my profile pic is about eight years old from happier times in Greece. Not saying these aren't happy times at the moment but they are definitely different and we haven't managed to get to our beloved Greece for a couple of years now. We've been to about 19 different islands but a few years back we discovered our 'happy place' of Skiathos (where this pic was taken) and we've been five or six times since. We now have four rescue dogs from Skiathos in our family (number five is the odd one out from Hungary and he is definitely the 'odd one out' - for a start he speaks a different language
). Hopefully soon the world will return to normality and we will get to return. We did want to retire there but the Brexit nonsense (sorry, I'll keep politics out of it) has made such plans more difficult.
Was just reading through this thread for fun… I think this is the funniest thing I've ever read on bb
Mine is cover art of from the recent Mr. Bungle album The Raging Wrath of the Easter Bunny demo… which is essentially a re-recorded version of their 1986 demo tape. It is awesome thrash metal, I can't stop playing it. I've been a fan of Mr. bungle forever and Mike Patton in general.
One day hopefully I can do some Mr Bungle covers

Mine is of the man himself. Phil lynott. Legend.
I like to confuse people, so I change mine frequently.
Usually it's a still from my most recent cover video.