I just watched that movie last week.
This is ugly but…… I love the brilliance of the idea. "A guitar that's just a pickguard". Love it for that.
haha… and you know somebody's gonna buy that
I had to look twice, was it an optical illusion? Or see through body? Nope
Why???
I can see the artistic design reasons, but to actually produce it and expect sells
I wonder if it's the gold medalist for neck dive!
caught my eye too. i dont usually spend a lot of time in the 6 string area, but i had to get a pic of that for this thread
I'm in NYC for the weekend and popped into a Sam Ash for fun and saw this Batman Bass hanging on the wall. Never heard of Scorpion before.
I was debating putting this in bass porn but it's not my style. But one bassist's freak is another's porn eh?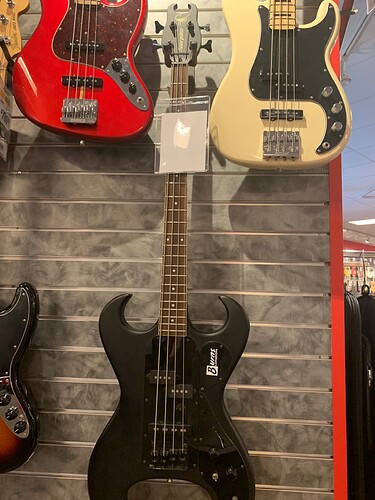 Upon closer inspection, I think what pushes it from porn to freak to me is the pick guard. The three separate pieces look like they were just schlopped on there.
I prefer pick guards that are a single piece like the PJ above it. I think even the jazz style pick guard turns me off a bit.
Not so much air guitar as Where Guitar.
How much was it going for?
I actually like that @RoyB

Haha… at GC… & its stayin there
A custom 'steampunk" Dean.
Check out the "low" (relative to airplane flight altitudes) action.
Yikes. It would take a whole beat just to push the string down to the fretboard.