I'm selling all my gear tomorrow. I can't compete with that! Wow!

Gotta keep in mind this guy was a beginner once. But he sure is a bona fide badass now!
Yep, I saw that video, too. But he was obviously way talented even as a newbie kid. All the piano education before picking up bass was clearly extremely influential and beneficial.
Killer player.
I actually expected him to be somehow able to pull the whole track simultaneously.

He's really skilled and creative, the best combination. And on top he doesn't have that Davie's annoying persona. Not hating on Davie! In the end it was Davie who decided to catapult Charles in to 7 figure subscriber count.
Absolutely correct. But Charles is a phenomenon unto himself, a force of nature. His crazy-elaborate, CLEAN technique and improv creativity are mind-boggling. Not to mention his speed. Just amazing.
He sleeps with his bass. That is dedication right there!
They're obviously very much in love.
I don't sub Charles because he borrows too much in production style from Davie. It works with Davie but bugs me with Charles, just kind of low key irritating for me. But he's an amazing bassist.
Naaah. He started with a Peavey bass. Given that, I'm half way there already

I've only seen a couple of Davie vids. Didn't compel me to see more.
The whole thing of mugging and slapsticky "acting" is a YouTube trope. I just fast-forward to the playing.
Charles strikes me as a true talent.
As he stated in the video Charles got his big break on YouTube because of Davie504.
In my opinion Davie is talented… Like him or not, you can't take his accomplishment away from him.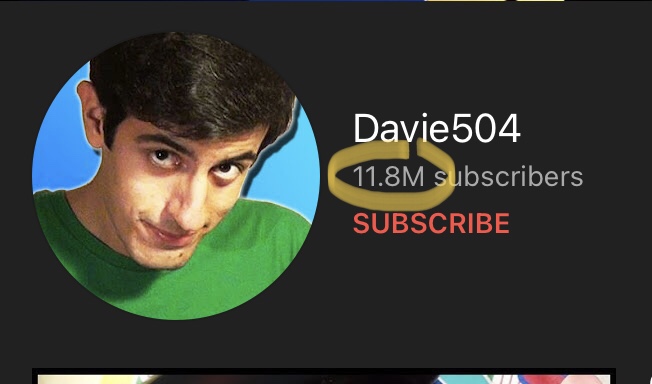 No one is trying to take anything away from Davie. There's no doubt he's talented. Just not my jam.
People are free to watch whatever they choose. To each his own.
It also doesn't help that I dislike tapping

Yep. If we all liked the same things, how boring life would be.
I come from acoustic guitar, so tapping is something I'm very familiar with. Still, it is an elusive mystery to me, a super power I wish I had.
The fluidity and staggering dexterity tapping requires to do seamlessly and with utmost musicality seems other-worldly. That said, it's not everybody's thing, and that's cool. We like what we like.
Plus 1 on this. That said, I would love to see a tap vs. tap jam Charles vs. Boh.