I was wondering about Suzi Q … she wears her Bass so low, is it just for show or can she actually play the bass well ?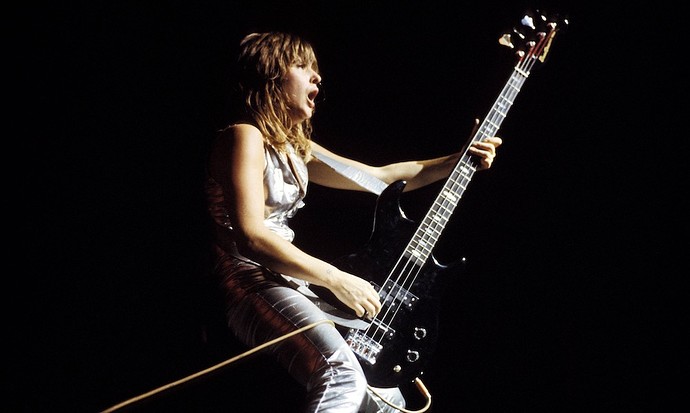 Oh Suzy can play very well @Brian.RichardS

And never uses a pick I believe
BOO

The way Reginald Arvizu ("Fieldy") of Korn plays always amazes me. Almost like an upright:
(Definitely not a woman either

)
Maybe not quite as extreme but wearing the bass with the neck high like that is actually a very comfortable way to play, super easy on the fretting wrist. Try it!
Totally serious. It's especially good for playing with wrist tendonitis.
These guys secretly dream of playing a Chapman stick, but their bandmates won't let them
Yes, I actually play with the neck quite high to relieve tension on my fretting wrist. Not as high as Fieldy does though… And definitely not with my bass slung so low!
Well I came in hear planning to talk about Tina Weymouth and Laura Lee as they are both incredible… but both have been mentioned already.
I'm surprised no one has mentioned the Smashing Pumpkins yet. D'arcy Wretzky was the original bassist and therefore responsible for those early albums which were fantastic. When she left they had another female fill in for a bit. Then when they got back together they brought in yet another female bassist.
When just playing through some random covers the other day I realized I unintentionally was playing three consecutive female bassist covers in a row with Talking Heads, Smashing Pumpkins, The 5,6,7,8's. Added in Overwhelmed by Royal and the Serpent (I think she is just a solo act and doesn't really have a bassist but not sure) and Seven Nation Army with Meg on drums for a fun little female powered playlist. Turns out gender has zero to do with a person's ability to write and perform a great bass line!
Please feel free to talk some more about them.

Small Bass World Trivia: Current Pumpkins bassist is Jack Bates, Peter Hook's son

They have a history of fantastic bassists.
Paz Lenchantin did a great job with the bottom end of A Perfect Circle in the early days of the band. https://www.youtube.com/watch?v=xTgKRCXybSM She could even fix her hair mid song

Jennifer Finch from L7 got an awesome energy and is badass AF!