Hi, I'm thorn between these 3 basses, what your opinion, feedback?
Yamaha TRBX174
Ibanez GSR200
Cort Action PJ
Thanks
Hi @yann1337, welcome to the forums! Two out of those three were reviewed by the Bassbuzz team:
If I remember correctly, they didn't really like the Ibanez. The Cort was the budget winner. I play one myself and I love it!
Hi Mike and thx, yes I was watching the reviews about the Ibanez and Cort, but I saw a lot of good things about the Yamaha TRBX174, just wondering and still not sure yet.
You probably can't go wrong with the Yamaha either… Many people here own Yamaha basses and like them.
Yamaha makes outstanding instruments for the price across their entire range.
Out of those three I would say either the Cort or the Yamaha will be a great choice.
@yann1337 Welcome to the BassBuzz forum!
When you have time, join us on the Introduce Yourself thread.
Normally, I would recommend playing each of them. If you can do that, you will be able to tell, pretty fast, which one feels best to you.
If that's not an option, go with the one you think looks the coolest. This matters more than you might think.
Ultimately, you want three things from an instrument, sound, look, and feel. If you can't put your hands on it before you buy then go with the one thing you can go with. If you like the way it looks, you will want to pick it up. If you pick it up, you're more likely to play.
None of them are a bad option and all of them have been used by people to complete course. They are comparably priced with similar features. The only real difference is going to come down to personal preference. So, get the one you think is cool.
Hi @yann1337,
My first bass was a Yamaha RBX200.
I bought it about 35 years ago, and it still sounds, looks and plays really great.
I haven't played the other 2 mentioned, but Yamaha are great value​:+1:
Good 3 choices @yann1337
If the Ibanez has a neck like the higher range SRs it'll be thin and fast.
Like has been said the Yamaha basses are good value.
I've never played a Cort but when you figure in my Ibanez was made in the Cort factory I'm reckoning they'd be pretty good.
To be honest the world your oyster. The only constraints really being budget and availability in your location
I have a TRBX174, I'm very happy with it especially the nice satin neck. it did come with a really high action so i did have to do a setup on it but that was pretty easy. I saved $100 on an amazon warehouse deal so it was pretty tough to beat that.
Thanks guys for your feedbacks. I emailed to a guitar shop here if they can order the Yamaha TRBX174 and if yes, I'll take it, if not I'll order the Cort Action PJ instead.
To be frank with you, the budget isnt a problem but in the past 20 years, I bought some guitars, cheap and high end. I realized that the price is not always the way to go… I bought some very good guitars for 300-400$ CAN and I still have them. My worse purchase was and still is my Gibson Les Paul at 2500$… its a great guitar yes but, isnt worth 2500$, never.
So, I looked around the net for my first bass, youtube, forums with a price range. My first choice is the Yamaha, for the company reputation, wood and value. Cort craft guitars since 1960 for a lot of guitars names like Ibanez and others. I red a lot of good reviews for the Cort and I can order it here for 269$ CAN which is the less expensive guitars in my collection if I buy it

Ibanez GSR200, not sure yet… ist more like 50/50. This guitar has an actives pickups but they dosent seem work very well, for me, its better to have a good passive than a so so active.
For the Amp, I choose the Fender Rumble 40 but maybe I'll go for a 25 or 30 watts instead, I play in my basement, so, 40 watts is ''maybe'' to much.
Good choices

Another great starter bass for a little more you may want to check out, if you want a P/J, would be the Yamaha BB234. The Broadbass line is outstanding.
I started with a TRBX304 and it was fantastic - so good that when I upgraded, I bought its big brother, a 604.
For the amp I would recommend you stick with the Rumble 40 - the 10" speaker will be nice for you.
I bought the Ibanez GSR200 as my starter bass (didn't watch the BassBuzz video first) but despite their negative review I was happy with it. I think it sounds good for a $200 bass and has some nice tone versatility. The neck is built similarly to the necks of the higher model Ibanez basses, which are notoriously fast and easy to play. The "bass boost" feature is silly and useless but you can just leave it turned off. Can't speak to the Cort or Yamaha but the GSR200 is good value imo.
Agreed with Howard that if budget isn't really a factor you're probably better off spending a little more on a better bass like the Yamaha BB234 or something from the Squier Classic line. It probably wouldn't be long before you'd want to upgrade from a "beginner" bass anyway.
Hey thx, yes I'm looking all the options actually. I was at the guitar store yesterday and I had a Ibanez SR300 color PTI… great Bass but the color turned me off…

I like Black, all black.
Something like this @yann1337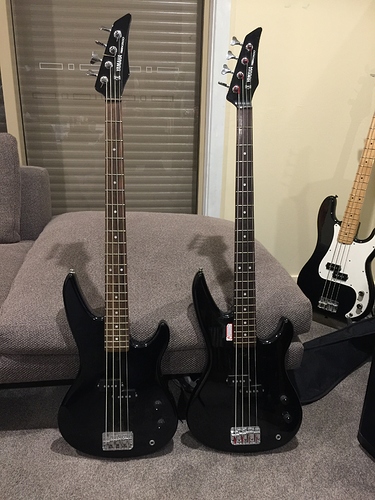 These are my RBX200 Yamaha's👍
Oldies but goodies😎
Cheers Brian
My first bass was a used Ibanez GSR200. The neck was the only thing I like about it. The whole point of your starter bass is to confirm that you enjoy playing bass and that you will stick with it long enough and serious enough to justify your second bass. By that measurement, my first bass did great. It was something cheap to learn on, but the only reason I keep it around at this point is as a sentimental wall hanger. I moved onto a Fender Jazz that I love, and now my newest is an Ibanez SR650e that I find hard to put down. Good luck with your decision. My vote goes to not the 200, but I've never played either of the two others, so who knows.
Nice! Are those RBX full scale or medium? Sometime around then they also made a 32" RBX that was similar to the Motion Basses, except with the RBX headstock.
Another vote for the SR650 here.
Fantastic bass to play and I just keep going back to mine. Especially if I begin to learn a new tune
Yep @howard,
They are both full scale👍
Cheers Brian
I'm also contemplating what my first bass should be and I've narrowed it down to the Squier Affinity Jazz bass in "slick silver" (cuz I love all things silver), the Ibanez GSR200, Epiphone Toby Deluxe 4 and also, quite possibly the Yamaha TRBX174. They're all within the same price range. I did get a chance to play the Squier Affinity Jazz and I quite liked it,but the store didn't have the other ones on the sales floor for me to try. For me, it mostly comes down to looks and THEN feel/sound. Like someone said above, if I don't like the look of it, I'm not gonna wanna pick it up and play it.
Since it's Black Friday week at my music store next week, I'm hoping that I can go try a few of the other ones.
Also, do you recommend a hardshell case or a gig bag. I don't plan on taking it anywhere, lol, but I do plan to keep it safe from my 3 very hyper cats who like to get into things they shouldn't LOL.