Thanks for leaving all the good ones for the rest of us!
My pleasure! Happy to help fuel other people's collections. Being a bad influence is fun
This I know first hand man!
Someone posted on Reddit the other day that they have 3 basses and they don't even play bass

I can relate to that person, I have 2 usa strats, 2 Mij strats and half a dozen Squier strats. I don't play guitar either, lol.
Yeah I'm on my second guitar now. Still can't play much. Like it though

I have just spent a month looking for a used left handed bass. Reverb seems like a good place to look. And take your time if you are looking for a used lefty. They do come up. I saw good options on facebook marketplace, gumtree and reverb.
And in answer to your question I love my current rig : a used Ibanez SR370el maple body in aged whisky burst, with a wide leather strap, a gator rigid foam case and the NUX Might Plug practice/headphone amp.
If I could only have one bass, which one - I made all mine so it's like choosing which child to save in a fire; but if I could only keep one I would choose the EB2-ish one. It took nearly five months to make, most of which was learning to make a hollow guitar body. One pickup, maple body and neck, rosewood fretboard, a six capacitor varitone, Hofner tuners (no-one want neckdive). Comfortable to play standing or sitting.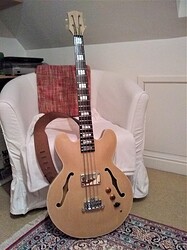 All Sandberg models are available for lefties, that sums up to more than 20 different basses.
Thanks! I just added it to the list.
I think tone is incredibly overrated when it comes to basses, just okay something that feels good and makes you want to pick it up
Easily the most overrated aspect. Totally agree. Tone is easy to change later in the chain.
@Glitch would mind editing to include the words left handed in this thread title? Cheers
I hear you, @Barney - but I've found the benefit of going lefty is a lot less time spent at guitar stores messing around with other basses and wondering what if…not that it is 0…but less than if I was playing right handed. I mean, I've played some upside down in the stores, just to get a feel for different necks…so the desire isn't eliminated, just squashed a bit.

I haven't played enough basses in person to know what would be my preference yet. However, if I am limited to basses I currently own, I would settle on my ESP LTD Stream-205. It is versatile and comfortable to give me what I should need for life


One of @Korrigan's Cigar Box bass's - Only complete with the CIGARS!!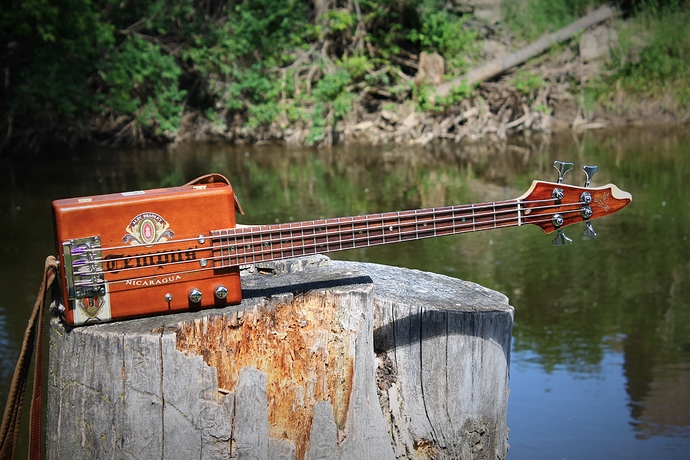 I have a neighbor who makes cigar box guitars and basses…
Geez…if I could only have 1 bass from my collection it would probably be the Poison Apple J Bass I built. It's got a unique sound and it's great to look at (and some of you said you like the neck and headstock because I used dark walnut stain and you'd never seen it before).