Let it snow, let it snow, let it snow!

As an aside, many of you have seen this, but just as many have not.
Two of the greatest advanced bass teachers (Josh is the greatest beginner teacher) collaborating online. What an amazing performance.
J.S.Bach Prelude #2
Corrugated poster board that I got from Michaels (craft store) and some spray on adhesive.
I had put the wall chart under a rug in our family room for a couple of days before hand to get the curl out of it.
I wish someone would post a video review/flip through of the book
@John_E what's it called ? I will most likely get both since they are raved about here and I respect my new bass friends opinions

These are her two books side by side. The one on the left is her first book (and the first you should read) and on the right is the one she just published.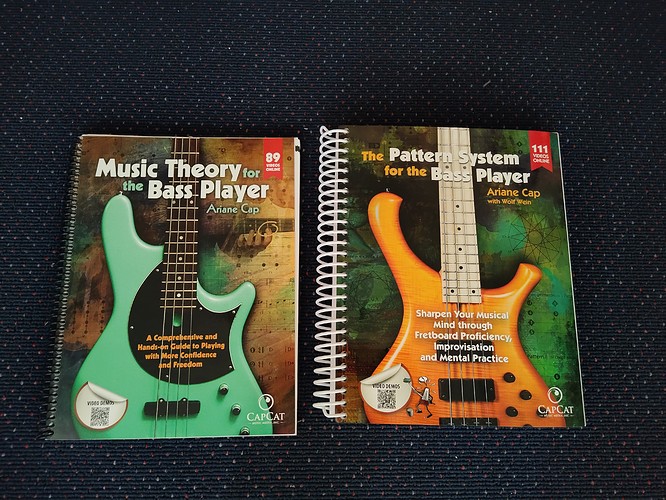 @PamPurrs thanks Pam that's awesome I appreciate it !!
@JPHaggerty did it come spiral bound or did you have the option on Amazon? I don't see an option on Amazon Canada.
It was spiral bound. I just checked - they have 6 left in stock @ $65 USD. The regular bound books are cheaper, but…
Can you shop the US site?
@JPHaggerty yes I can with exchange and shipping and duty will be over a hundred bucks if I get regular binding I can get it spiral bound for $10 or use giant clips to keep it open at the right page

That's a good idea, @MonsieurFahrenheit . . .

Cheers
Joe
@PamPurrs in the Pattern book it says it's not a follow on to the first one. That it is it's own independent set of skills and doesn't rely on the first book.
Has Ari said something different or does this come with your experience having gone through the first one?
You are correct in stating that the Pattern book is NOT a follow up to the Bass Music Theory book, and Ari has also stated as such.
My suggestion to read the Music Theory first is just my personal opinion, but does not mean it's a prerequisite for the Pattern book.
Sorry if I caused any confusion or misunderstanding.
It's all good. Thanks Pam.
In the Indiegogo video for the campaign, it says…
"My new book picks up where the first one left off"
I also told her that I don't plan on starting the Pattern System book until I've finished the Music Theory one and she said that was a "sensible approach".
So while the first book may not be a pre-req per se, I think Ari is suggesting that it would help to be familiar with music theory before you dive into the new book.
She even mentions finishing the theory book before starting the new one in the introductory pages, so I stopped reading and got back to the theory book! LOL