Love slapping open E, lol. The real question is do you need a/another 5 strings?
Well, yeah, OK, what do I know…
(Not a slapper at all…)
Hey now! don't they'll that to davie504, lol
Not a big fan, I have to admit! He got chops, but the whole act is just not doing it for me

I don't like dave504 either
His whole Theme is slap it, it gets old quickly. It works though everytime I see slapping his name came to mind. Lol.
I love his humor.
Its subtle and quick and can be absolutely hysterical.
He is about way more than bass playing.
The showy slap gets old fast but the dude can play virtually anything.
Yeah he's legitimately really good.
After much deliberation and yet another mark in the green paint

the V bass has undergone a major change. I've ended up going back to natural wood with a slight orange/brown stain. For some reason I can't upload a pic atm?
I'm going to be a lot happier with this although I would have loved the green too.
Maybe I just can't paint basses as well as bike parts
Or, why not embrace "imperfection"??
I know it's hard, but it can also make this even more unique and "yours"
That's funny, I actually boost my mids a bit. It depends on what bass and amp I'm playing tho. I rather keep my mid flat and boost my bass and treble a little bit.
@John_E was it Fodera?

Boosting bass and treble and leaving mids flat works too

I honestly just couldn't live with it @joergkutter . I seemed to put a mark on it every time I picked it up and that was colouring my feelings towards the bass.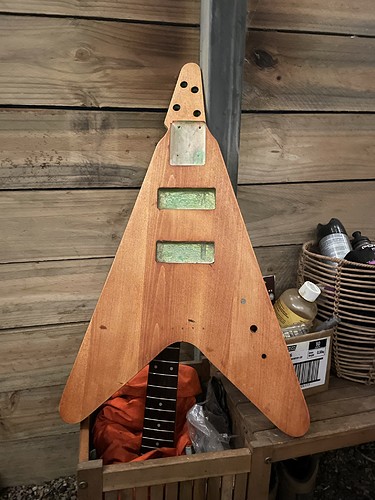 I'm quite pleased with the new look

Can totally relate! Glad you went back to a natural wooden look! I am a sucker for nice (natural) wooden finishes
That's gonna look great when it's all together.
For some reason liking at the shape makes me think to do a Star Trek original series cheesy knobs and dials etc on a Flying V. No idea why but that would look kitchy cool.
Thanks @howard
Those knobs would look sort of cool in a weird sort of way @John_E

I also finally had to admit defeat tonight and realise I'm not going to find the pickups that came in the kit!