Aye but i also got my amp, bag, cable and tuner as a package. but yes the tone is beautiful i remember trying it out in the shop and it had a gorgeous low sound.
Hi, has anyone tried the Gibson Les Paul Junior Tribute DC Bass? Thinking of spoiling myself as a reward when I finish the BassBuzz course.
I recently bought a new short scale bass. I wanted a Rouge violin as it is very light to hang on my getting older neck. I tried 2 of these and both had issues. Factory defect and poor use. I then tried a Squire but I did not like the bridge. 2 strings per tuner screw and oddly set. I was hoping to try a Fender Bronco but no one had one on hand due to pandemic issues and no more shipments coming soon. SO I tried a Ibenez GSRM20 Micro in black. BAM, I am really lovin' this bass. J and P pickups Great sound for an under $200 rig. Super to play, light and a short 29 inch scale. As much as I like my Mexico made 2000 Fender Jazz bass the new Ibenez is great.
Mine was delivered today, in orange

Just in case someone is looking for new strings for her/his shorty i found this helpful overview from Scott:
That's a great article @bernds64
Thank you for posting it
my pleasure

im going to steal (ahem borrow) this for my short scale thread, nice find

It's been really good timing as I'm going to replace the strings on the Mikro once it arrives and I was a bit unsure which brands might be the best.
I'm thinking GHS or Thomastik as I have tried both on my other basses
you ´re welcome


but keep in mind, that this is a very personal view Scott did, maybe others will come to a totally different conclusion concerning strings but its a nice overview
i can tell you that for me (and someone else here found the same thing) i had no problem at all switching, as a matter of fact i usually work out difficult things on my short scale which is easier, then switch to full scale to play it there. so in other words, playing on the short scale improves my playing on full scale. i now have 4 basses, each a different scale: my ukulele scale ubass, my ultra short mikro, my shortscale stingray and my full scale bongo. i have to say i'm not to the point that i can play without looking at my fingerboard, and when practicing not looking and playing by feel on the mikro yesterday my muscle memory was overshooting the notes a bit, as the scale is obviously different. but hardly a big deal. i think it's actually good practice to play on different basses with different scales and feel. but, of course, YMMV. let us know how it goes.
My main intention to put this link/article here is the idea of tuning and the kind of playing he suggests.
I believe, that a short scale is an option for a different expression in playing bass (hopefully) as every other kind of bass will offer too no matter which scale. Maybe the SWB-1 is far better than my Cort (just kidding), maybe it is the perfect addition, maybe it is crap for me, i will let you know
And i totally agree with you about playing all kinds of basses, therefore i cant wait to hold it in my hands and make a review
@itsratso I'm also going between my 34 " and my ESP ltd shortscale. I go middle finger to C and play the major scale and then my fingers seem to get it. Mostly, perfection being overated.


Jamie
I have a few top end short scale basses. I also have a few budgets basses. Ibanez Mikro bass 28" also have an old Fender MIM p bass 28". Fender offset Mustang, Jaguars SS. And Sire U5. Also have GAS.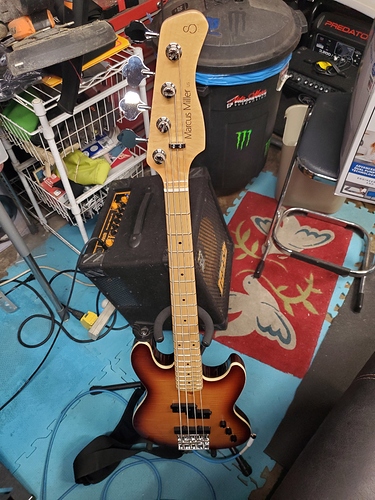 Sire U5 like it better than my Fender Mustang about same price. The 30" Jaguars is a great bass for the money but they stop making them.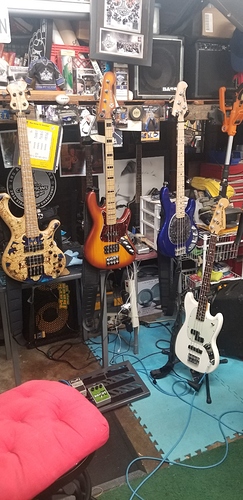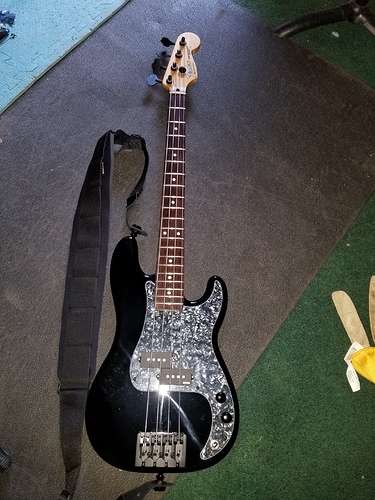 Fender 28" short scale MIM upgrade tuners, pickguard, bridge hipshot, EMG Geezer pickups. Squire has a new P mini spin off of this bass. Tried to make it all black.
Is the bridge black? Can't tell if it is and the light is making it look lighter?
Would look sexy with a black bridge if it is not.
yeah. I made it all black
I took a reeeaallyy long look at that blue EBMM shorty on reverb a while ago. Couldn't justify at the time the price, I already have the SBMM shorty and I love it. Otoh, blue is my wife's favorite color