Looks comfy
My dog seems to like it.
That is quite a collection of basses… What are the highlights?
My highlights would be my custom "S" bass from Cb basses. And my 2 EBMM shortys. I got 3 custom from public peace, Sire u5, Squire Jaguars ss, Fender mini P, Ibanez mikro. Love them all cycle through all of them. After my injury got rid of my HD motorcycle and Quads can't afford to get injured again. My wife has been supportive, so all is good. She rather have in in my garage instead out and about doing crazy stuff on my bikes. Do miss the bikes thou.
Is he in one of those pictures? Because I can't find him
I wish I had a practice space. I have six kids at home and not enough space for a dedicated room, so I have to just perch wherever the house happens to be calm for the time being. And then I have to pack everything away when I'm done. It certainly makes it harder to practice, but I do what I can! Maybe in another 20 years I'll get a man cave.

From the Bio on the Daisy Rock website, I got the impression that it is marketed towards and in support of women playing in general. There are some beginner sets that seem to be possibly marketed towards younger players, but many of the instruments are pretty quality instruments, and the owner / creator of the company is a professional musician, and uses her basses for professional touring and recording, from what I remember from reading the website. So, I think it is an all ages, have something for any female player bass and guitar company.
Anything to get more women playing bass!! It's a fantastic instrument to learn.

From the website
Combining a lifelong passion for making music with a desire to "level the playing field" for dedicated female guitarists and bassists of all ages,
and
Daisy Rock has also become the guitar of choice by famous professional artists from across the musical spectrum, including Wanda Jackson, Vicki Peterson, Lisa Loeb, Avril Lavigne, Joan Jett, Heart's Ann and Nancy Wilson, Louise Post (Veruca Salt), Miley Cyrus, Kathy Valentine and Jane Wiedlin, Dolly Parton, Jackie Tohn Juliett Sims, and Kate Nash. Girls, however, aren't the only ones having fun with Daisy Rock Guitars—Robert Smith, Jimmy Page, Chris Stein from Blondie, and Sylvain Sylvain from The New York Dolls loves them, too, as do Adam Levy (Norah Jones) and Paul Leary (Butthole Surfers).
This looks awesome! We only moved in to our current home a few weeks ago so this is the current state of our music room. Everything is in but I'd love to pretty it up a bit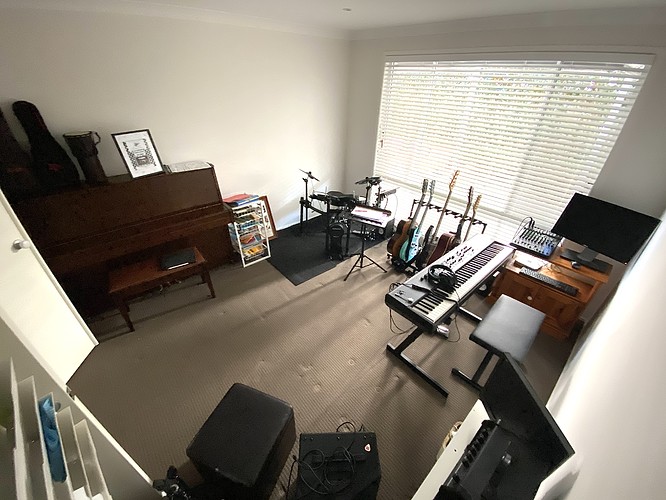 Oh that was actually a reply to a photo a few posts back
Nice mixer. Yamaha MG12? I was just looking at those

Hey, yeah it is. I know nothing about it beyond being told which buttons to push to do recordings for the kids

hubby did a lot of research before he bought it though and he's really happy with it
No worries - at the top of your post, it shows that it was a reply to John_E. You'll get used to the forum software… Nice room - and welcome!
Ah yup I see that now, thank you
Damn I'm jealous. Is that a proper Jazz Bass Special? What year?