Yes, MBD is strong with this one.

Ditto what @mac said about your grandfather . . .

My paternal grandfather was also in World War I . . . and I remember he told me he was a Sergeant in the Army and made $18 a month!

Cheers
Joe
I think I would be too, @T_dub . . . stupid bureaucracies . . .

It's a Vox Mini5 Rhythm. It's fantastic for guitar (and ok for bass if you keep the volume down to avoid killing the speaker).
The only thing more repeatibly frustrating than dealing with a cable company is the DMV.
Thank god for AAA.
You would think, but even there was a bummer. I went to get a copy of my car registration that seems to have been stolen from my car, and I need ti to get a new Key, BMW will not issue one without the registration, understandably.
We had to go back because we didn't bring cash, or a credit card. They won't take debit cards. I believe the DMV is the same
At least there were no DMV sized lines and it was pretty quick in and out both times.
It was worth the 5 mile drive, even tho the DMV is within walking distance from my apartment.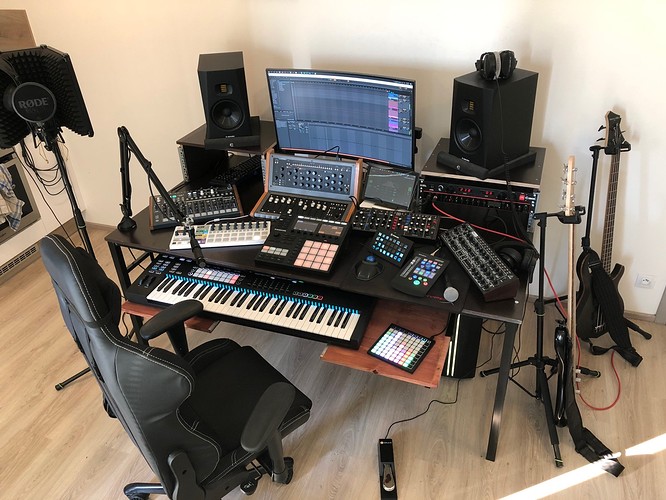 After a long time with "ghetto setup" of two dining tables in L position in our living/dining room I decided to "consolidate" my music corner and with the help of my dad we've built this humongous studio table, which in the end takes less space and all my gear is in arms reach. Both my basses could also take a prominent place to be always in sight. There's still a few hours of work in front of me., but I am really looking forward to the workflow stemming from the new setup!
I really need to do something like this, my desk isn't cutting it.
A desk?! Luxury @howard
This is what I'm working with

A more up to date representation of my practice space. That said the Darkglass Element on my pedal board means I can be fairly mobile!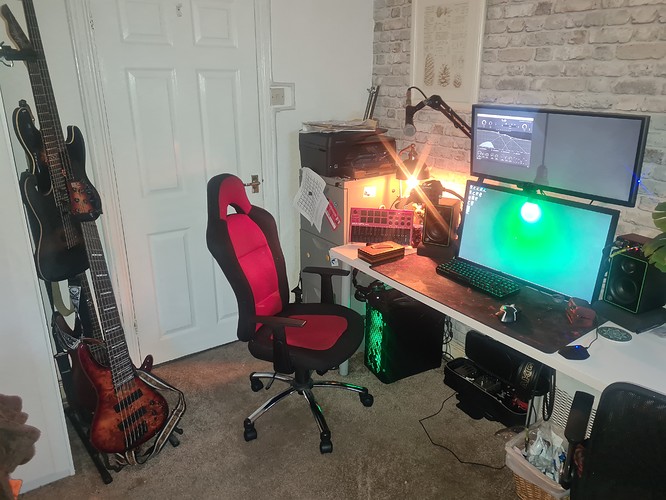 Nice space! I really fancy that brick wall and I love my DG element too. By far my most versatile pedal.
I love your space! I also like how your instruments are kind of cramped into one space too, makes it easier and simpler to maneuver & get things finished. I love having everything under-hand.
Hi all! I have a new practice space, because I recently moved. Thankfully not far - literally upstairs from where I used to live. Much more space up here, and overall so very worth it. My new music area is in the living room, as it was in the old place, but it's so much better. That's also why I haven't been playing much bass lately. Now that I have a new music space, I foresee a lot of bass in my future.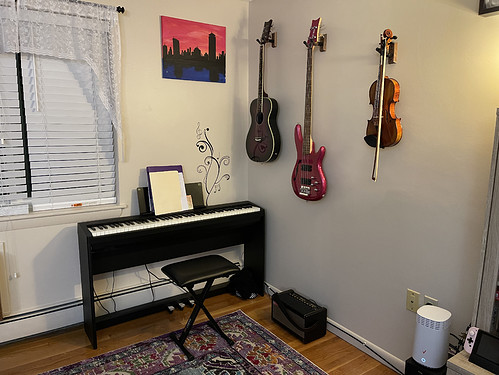 How do you like your Spark?
I love the Spark!! Sounds great as an amp, does a great job as a bluetooth speaker, too.