So, this is Athena: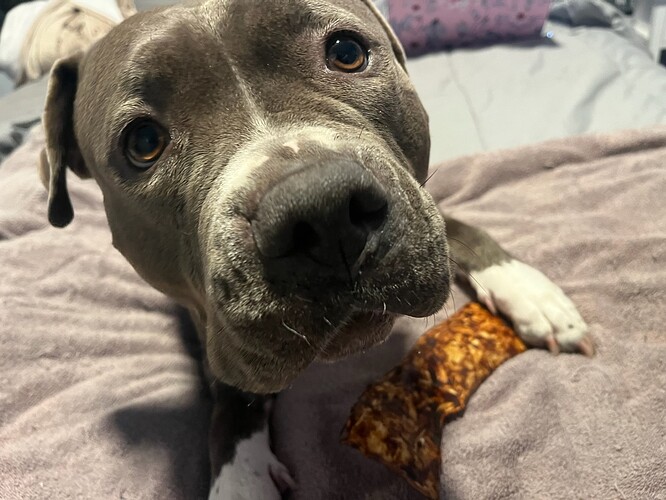 Here is how Athena came to us about 3 weeks ago: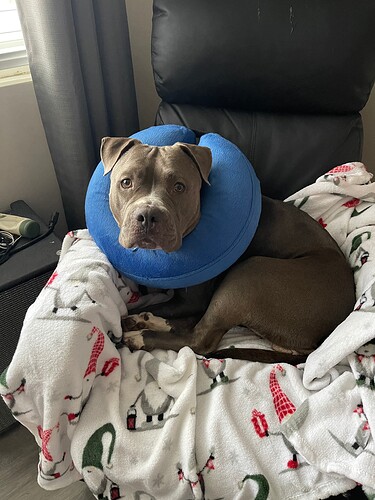 So, we have a staffy named Zelda, had her since she was a pup. Got her from a rescue. Because of that, my GF constantly monitors the social media of various local shelters and rescues. Athena (then called Pittricia, hurr) showed up on one of them. Turns out she was found roaming the streets of Buena Park, pregnant. The rescue took her in and took her to the vet, who classified her as high-risk, claimed that the puppies would not be viable, and recommended euthanasia for the lot of them (including mom!). The rescue was desperate for funds to pay the vet and get her to a different vet, and for a family to foster her.
Mary (my GF) was beside herself reading this story. So, we opted to be the family that fostered her, and we helped the rescue with some of the vet bills. She went to a different vet, gave birth to 2 stillborn pups, and then underwent an emergency C-section. Unfortunately, none of the puppies survived (one lasted almost 24 hours). We think this is because the first vet, upon bringing Athena in, vaccinated her. Which - as I understand it - you're not supposed to do with pregnant dogs (the pups haven't yet built up enough of an immune system to deal with the vaccine).
She is absolutely the sweetest dog. All she wants to do is lie with us and cuddle. She's been sleeping a lot, but that's understandable given what she's been through. We had the staples taken out of her c-section cut this past Sunday, and she's really starting to get comfortable and show her personality (which is fun and goofy).
We've been slowly introducing her to Zelda. If the two get along, we'll probably wind up keeping her. I hope it works out, she's a great dog.
Man… no words! You guys are heros!!!
So, good news, Athena is like… 99% healed, and she and Zelda get along like besties. They've been almost inseparable since we let them openly hang out together 2 days ago or so. Looks like we've got a new dog!

Watch out for your kar! Stay! Lol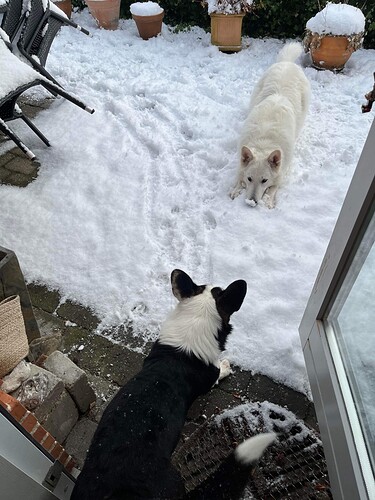 Have not seen my dogs in 2 months soon and I'm missing them so terrible much. We should be able to move back into our house the 19th of December and 22th we are driving up to Denmark to celebrate Xmas. Best present will be that I can take them home with me.