MI Audio G.I. Fuzz
Looks cool too!
Really nice set of pedals! You don't see a Strymon Bass compressor that often.
I actually won that one for free (plus shipping) from a very generous user over at TB. He had just gotten the Darkglass Hyper Luminal. As a novice, its true potential is lost on me, but nonetheless I'm glad to have it.
may be small but those are some killer choices. nicely done.
Nice! The After Shock is on my wishlist. I have a Bass Big Muff but looking for something with more dirt than fuzz.
As you will, just play around with it. I've found different effects always influence what I play and have even come up with bass lines that I later used WITHOUT the effect even though the effect inspired it!
Wow. Those are three stellar pedals to start with.
Oh cool, I'll check out the Big Goat. I'd seen someone else mention that one. Thanks!
This is the real answer someday

Thanks. Only really intended to have the After Shock (compressor came as stated in post above), but I kept having FOMO by not having the one pedal I always wanted, VMT. So I just went for it.
To be honest, through the Fender Rumble, the VMT doesn't shine the way it comes through on YouTube samples (DI). I can hear more of its character through headphones, but the Rumble Baked in sound and speaker definitely changes it. No regrets though. I still use it as an always on pedal and fidget with the settings.
@terb how's the SVT amp sim on the Pod X3?
I did extensive research of fuzz pedals about a year ago. The one I wanted was the Seratone by Rocket Surgeon (Nordstrand), but they are out of stock and haven't made anymore for about two years now.
So, I got what I thought was the next best sound, the EHX Green Russian. I found this sound better than the EHX bass specific fuzz pedals and it works fine on bass. Of course, fuzz/distortion/overdrive is a very personal thing, so might not be the right choice for others.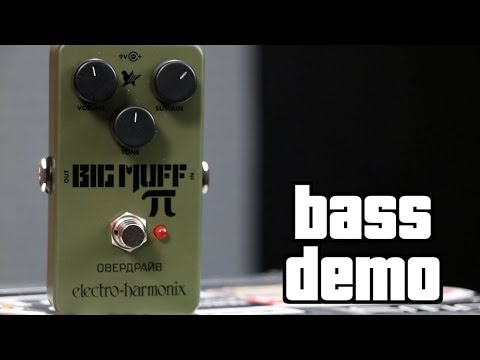 I love how it says "Overdrive" in english, just spelled in Cyrillic letters. Like some kind of Russian version of Katakana.
(which may be the Russian word for overdrive for all I know; certainly a lot of loan words in Katakana are the actual Japanese words for things.)
edit: it is

it's excellent, very probably the more realistic of all the SVT sims I own (hardware or software). to me it sounds and behaves more like a SVT-CL (the one with one channel and the black faceplate) , whereas the sims are often based on the SVT-VR (two channels and silver face plate - the original SVT). it's agressive, punchy, has lots of gain, and behaves very close to an actual amp.
I think you listened to this cover, recorded with the SVT sim on the X3.
The X3 is really an impressive tool, it's by far one of my favorite PODs. and it's not the one we find the most easily, possibly because it was very expensive at the time. I see this preamp like some kind of hidden gem in the Line 6 range.
to me the Muff is not a fuzz, but more an extreme distorsion. I had to repair an original green russian Muff, two decades ago. this is by far my favorite version (I know very well the black russian and the USA versions, too). this thing was incredible.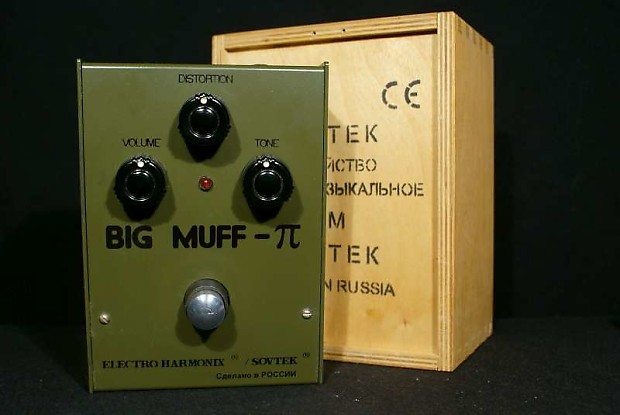 the original green russian Muff sell for insane prices now.
To be honest, I get a bit lost in the whole is it overdrive, distortion, or fuzz thing. I just know they all rough up the noise.

I was actually going into this with no budget constraint, so was a bit surprised I liked the EHX pedal so much to be honest. Just showed me that the price of a pedal doesn't necessarily correlate to the quality/attractiveness of the sound (which is subjective of course). I've found EHX pedals to be very good value for money. I also have the EHX Bass Clone Chorus and the EHX Tone Corset Compressor.
it's pretty normal ; it's more about electronic circuits typology than anything else

the Muff is designed like a distorsion, with multiple stacked gain stages. but that's a detail.
EHX pedals are excellent and there is really an EHX personnality. I'm totally OK with you, it's not at all a matter of price tag.
Yes, I do like the sound in that one!
Thank you for the extensive explanation. Very helpful.
You wouldn't happen to know if the SVT sim in the bass pack add on to the HD500X is the same or just as good would you?
I have a POD HD and a POD HD 500 but I don't have the bass pack. I'm sure it's not the same model than on the X3 (all POD generation sound really different) and I'm pretty sure it's not as good as the one on the X3. the HD series are pretty bad with basses. I would prefer a X3 Live over a HD500X.
That pretty much settles it then. I never would have thought that I'd have to get a new kidney to treat a case of GAS. What was once briefly listed on Reverb now belongs to me. Thank you for your help!
you're very welcome ! the X3 is really a great piece of gear.