Hey everybody! I'm excited to tell you that we have replaced the Hal Leonard 50 Songs book that used to be shipped out physically with the Beginner to Badass course… with our own digital 50 Songs pack, accessible through your Course Extras page!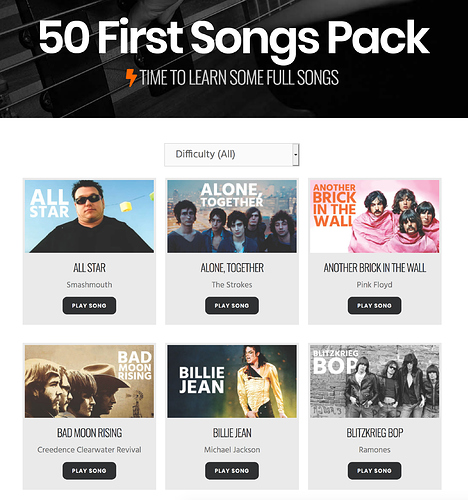 The new song pack is available to all B2B students, past present and future. You'll recognize some of the songs from the old book, but I took out the ridiculously hard ones (Black Dog? Hysteria? Seriously?), added more full songs from the course (Don't Stop Believin', baby!), and lots of other good stuff.
I had the pleasure of making most of the charts for you myself, so you can be 100% sure that the notes, rhythms and fingerings are all Josh-approved.
The rest of the charts were made by none other than our beloved @Gio Benedetti, who crushed it! It was super fun collaborating on this project.
All the charts are playable through a Noteflight player right on the page, so you can play-along at a wide range of tempos, or just put up the chart and find the original song to play along with.
I separated the 50 songs into three difficulty levels, so you can start at Level 1 if you want some fun confidence boosters, or hit Level 3 if you want to stretch the boundaries of your B2B-level skills.
Enjoy!