I thought I would start a separate thread to chronicle the mods to make a 'test bed' bass.
The idea is, to have a bass that it will be 'easy-ish' to swap pickups/preamps etc and fiddle over time.
The first test case will be the electronics that will ultimately go into a custom design bass I am working on. But since that will take a long time to design/build, I thought I would use this project to test out the selected electronics: 2 - Sims Quad 4 pickups with a Glockenklang 3-band active/passive preamp.
The Sims pickups were chosen because they can be set to emulate a J, P or MM configuration all in the same pickup. With two pickups you have 15 combinations of pickup configurations to fiddle with and find tones etc from. Mark Smith from Talkingbass.net has these pickups in one of his basses.
The Glockenklang was chosen for two reasons. It is the recommended preamp for the Sims, and, it has a clean 'pass-through' tone vs. the other contender, the Aguilar OPB-3, which is described to color the tone on the active side much different to the passive.
The test bed:
After some researching, and bargain shopping, I selected a Sterling Stingray Ray4 to mod for the project. It was chosen for several reasons. It's an active system so a battery compartment and sizable control cavity already exist. It also will allow for some very simple routing to open up the pickup area for the Sims or other pickups. It has a pickguard that covers enough real estate to hide the bigger pickup cavity that will be cut. And, it was dirt cheap. I picked up a blemished model from wwbw.com (Guitar Center's sister company) and used some leftover reward points from the site to get it for $201 delivered.
Here she is…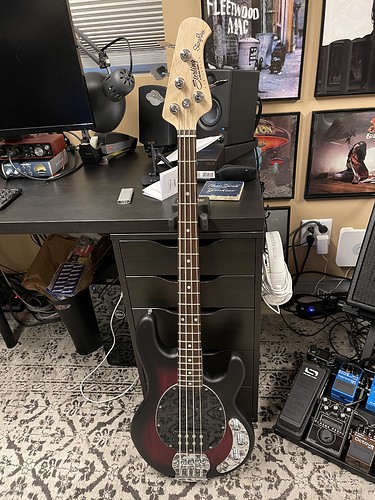 Or should I say… was…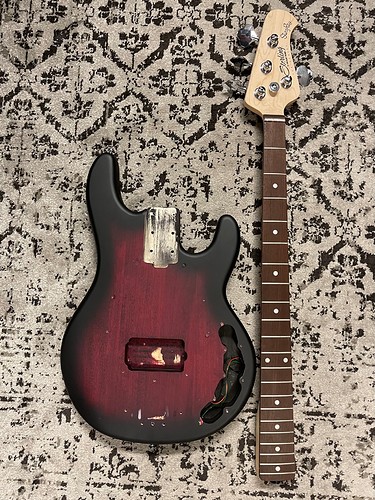 After a quick play as was, I stripped her down fully to start working on the body mods.
The neck will get a good cleaning and oiling of the fretboard in the meantime.
Next up…fitting the preamp