Way to go inflation!
Feels good to turn a profit!
I sold the Schecter PB-4.
…
Well, not really. I have a buddy up in northern California who desperately wants to learn bass. I sent the Schecter to him (along with a gig bag, a tuner, and some picks [just in case he wants to be THAT kind of player, LOL]) so that he can use it to give BassBuzz a try. If it hooks him, he'll either buy the Schecter from me, or buy something else and send it back to me.
Bottom line is that it's no longer for sale, and I've updated the post above accordingly. All that I have left is the Carvin TBS-4 and case, which I'll put up on Reverb in the next couple of days if no one here is interested.
My latest offering on Reverb
I can vouch that these OnStage stands are really good; someone should buy this

They did.

That was quick…
wow, took me over a year to sell mine!
Or do I still have it somewhere…hmmmm.
He cancelled right after he ordered it. I gave him a refund.
It's back on the market.
Gotta love big brain moves
In case any interest - I have talked briefly in a few topics about my Fibenare bass - early 1997 one (designed by me and built for me), unfortunately the Fibenare guys asked it back for a while and put lacquer to the full bass (it used to be satin stain as I wanted it to be), see pictures.
Single coil, passive pickups, nice rich sound - but neck could be better (action) but no frett buzz and frets are nice. Few pictures attached, if any details needed (close up on whatever etc.) let me know.

Not advertising on Reverb, preferred to give a try before selling; but this community is different

Let me know if you're interested

That is a beautiful instrument. Wow.
How much does it weigh?
Also, doesn't it just need a setup to get the action lower, or is there another issue?
Weight (measured just now by me

) : 3,6kg ~= 7.94lbs.
Neck: I have taken it to a luthier and the diagnosis was that there's a very slight twist in the neck, he suggested planing of the fretboard which I have skipped (to me it's not worth it). No buzzing though, acceptable (but not perfect like my Ibanez SR305 has) action; rich sound, and not seeing another exact one ever for sure
Dead mint Sansamp VT Bass DI with box, manual, feet & free, upgraded velcro.
Recently replaced by the new Ampeg
Let's say $150 plus actual shipping for buzzers before I sell for higher online.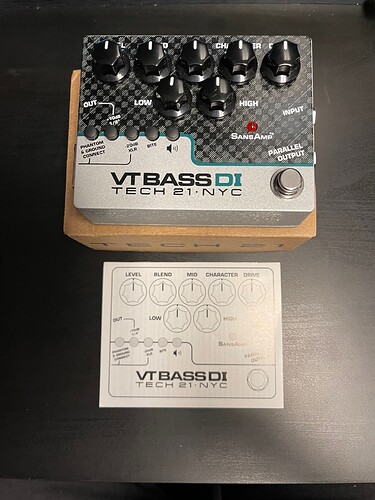 For anyone considering this, that is an excellent deal @John_E is offering. Even if you don't like it you could resell it and not lose any money.
Eric you should be a sales person for good pedal deals on the interwebz. I heard JHS was looking for someone
Thanks @Paul. I try to help the bass family out.

@John_E made it too easy. The only way you see this pedal at this price is if it's all beat up. If I could afford it, I would get it.
I thought @eric.kiser worked for Aguilar. He sent me a thank you after he coerced me to buy a TLC compressor