After years of not really caring about pedals and effects that much, I caught the bug! I've been having a lot of fun learning about effects, trying out new gear, and making new sounds. Here's my first pedalboard ever, which just went on its first tour: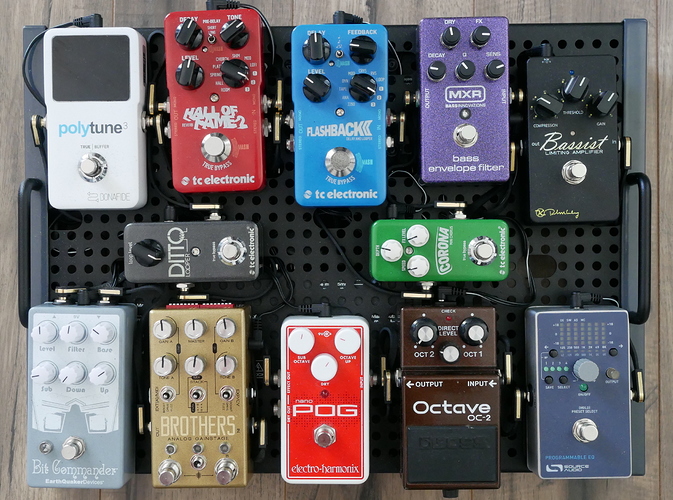 Here's the signal path from bass to amp:
Bass (Peavey Cirrus 4)
Line 6 Relay G30 Wireless (not pictured, need to re-adhere to the bottom of the board)
Keeley Bassist Compressor
Source Audio EQ
Boss OC-2
EHX Nano POG
Chase Bliss Audio Brothers
EQD Bit Commander
MXR Envelope Filter
TC Electronic Corona Mini Chorus
TC Flashback 2 Delay
TC Hall of Fame 2 Reverb
TC Ditto Looper
TC Polytune 3
Amp (TC RH450 head + RS210 cab)
The pedalboard I'm using is made by Temple Audio, and I'm loving it. Instead of velcro, you lock pedals onto the board via adhesive plates with thumbscrews. I'm really liking the system, and it's super lightweight.
I'm loving the CIOKS power supplies so far too, everything sounds super clean.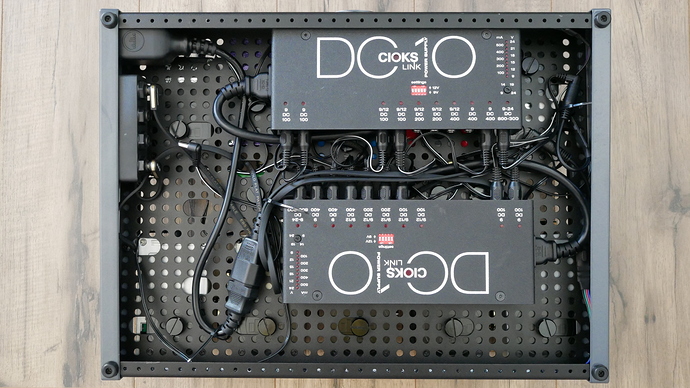 Also the super compact cables I'm using are made by EBS and they are killer. For my needs, anyway. I don't think I would have been able to fit this much stuff on the board without such small cables. I've heard they have higher impedance than some other options (like Lava cables), but for my active instrument it doesn't seem to matter.
The coolest part is the LED strips I have running on the bottom of the board, I'll have to grab a photo at a gig when I've got everything lit up - it's purdy.
Let me know if you guys are curious to hear more, I'm not a pedal expert but I can share my experience so far with any of this gear. It's fun!